- HISTORY OF THE UPPER KEYS -
Work of the World War One veterans in the Keys
- Camp 1, the Base Camp -

- By Jerry Wilkinson -
Posted June 25, 2010
The northern end of Windley Key is where a project to eliminate the vehicle ferry boats was first manifested. The program for the project was announced just after mid October 1934 after the federal government had created a Veterans Rehabilitation Program under the Federal Emergency Relief Administration (FERA). The Florida ERA in Key West had funded a highway to bypass the 40-mile water expanse being served by ferryboats. This had been a long sought after project since with only three 20 vehicle capacity ferryboats operating it would never provide enough traffic for Key West to become its new goal of a tourist center - the New Bermuda. The Florida State Road Department (SRD) agreed to perform the technical aspects and FERA provide the laborers. Of course both groups had to have a complete group of staff - about 100 for each group, but they would begin small. Only a few of the SRD staff workers lived on site aboard the quarterboat

Sarasota.

I will discuss that on the Camp 3 web page.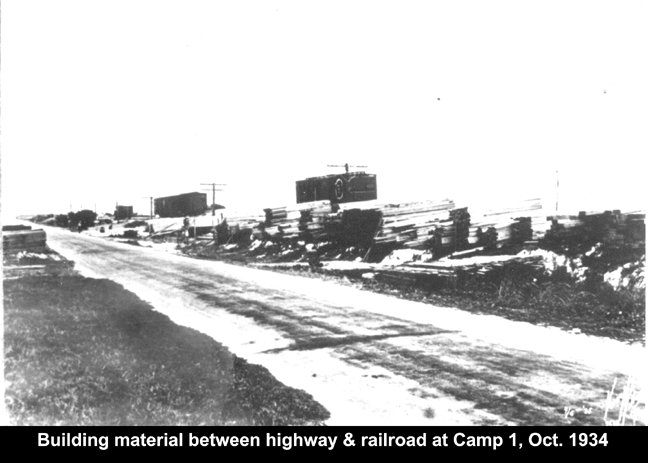 The first move was to purchase building supplies and dispatch a cadre
of 50
men to start the building of Camp 1. Not much is known about this group other than newspaper announcements. A photo of the material is to the right. Even less is known re building Camps 3 and 5, but they followed after number 1. The work site for Camp 1 was a rock quarry on Plantation Key of which I have placed on another page.
The Key Veteran News (KVN) veterans' newspaper published a collage of nine numbered photos on page 5 of its May 25, 1935 issue with captions and an accompanying article documenting Camp 1's history. I scanned these to assist relating the history, albeit the scanned photos are of poor quality - the copies old, faded and were half-tone images.
Photo numbered as "1" has the following description: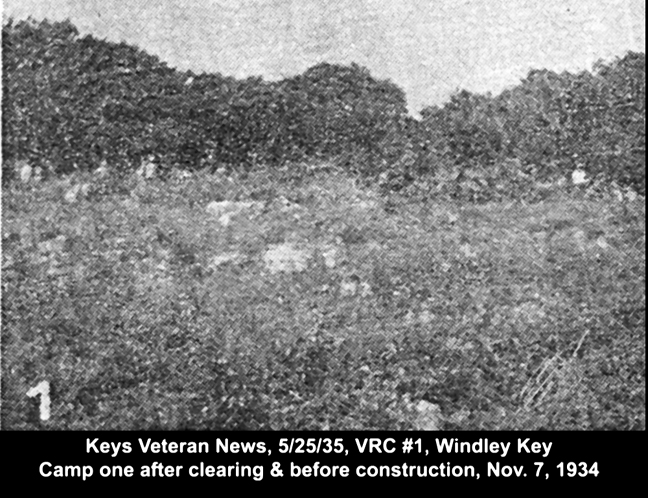 " At 6 o'clock on the morning of November 7 [1934], a springlike morning, Camp 1 arrived in t
he key country of Islamorada. [350 men came down onboard the train-JW] We were met by five FERA trucks and w
e
re taken to our camp site (Picture 1) at Snake Creek, where a mess hall and kitchen had been erected by an advance party of fifty men. The advance party had arrived here one week before we did. Colonel G. St. Claire Robinson, our camp director, pointed at the camp site and told us it was our future home.
"That didn't faze us at all. We pitched in and cleared all the rocks and trees, shubbery and undergrowth and soon we had the clearing shown in Picture 2. [The area in front & side of the kitchen and mess hall JW] Forty-two tents were built and bedding installed the same day, and soon we had Picture 3.
we all slept well after the first day of real pioneer construction in which every man did his share...."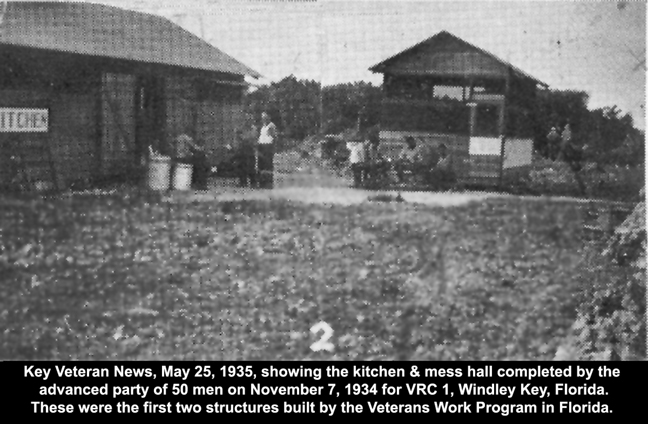 I have placed the text for the remainder of the photos as captions. I have closing photos to present, but feel that much can be learned of the World War One veterans and their working condition from these images, albeit they are of poor quality. Perhaps through this web page someone may find copies of the originals plus additional hopefully.
I will do some space management, but please scroll down to my closing aerial photos.

-
-
-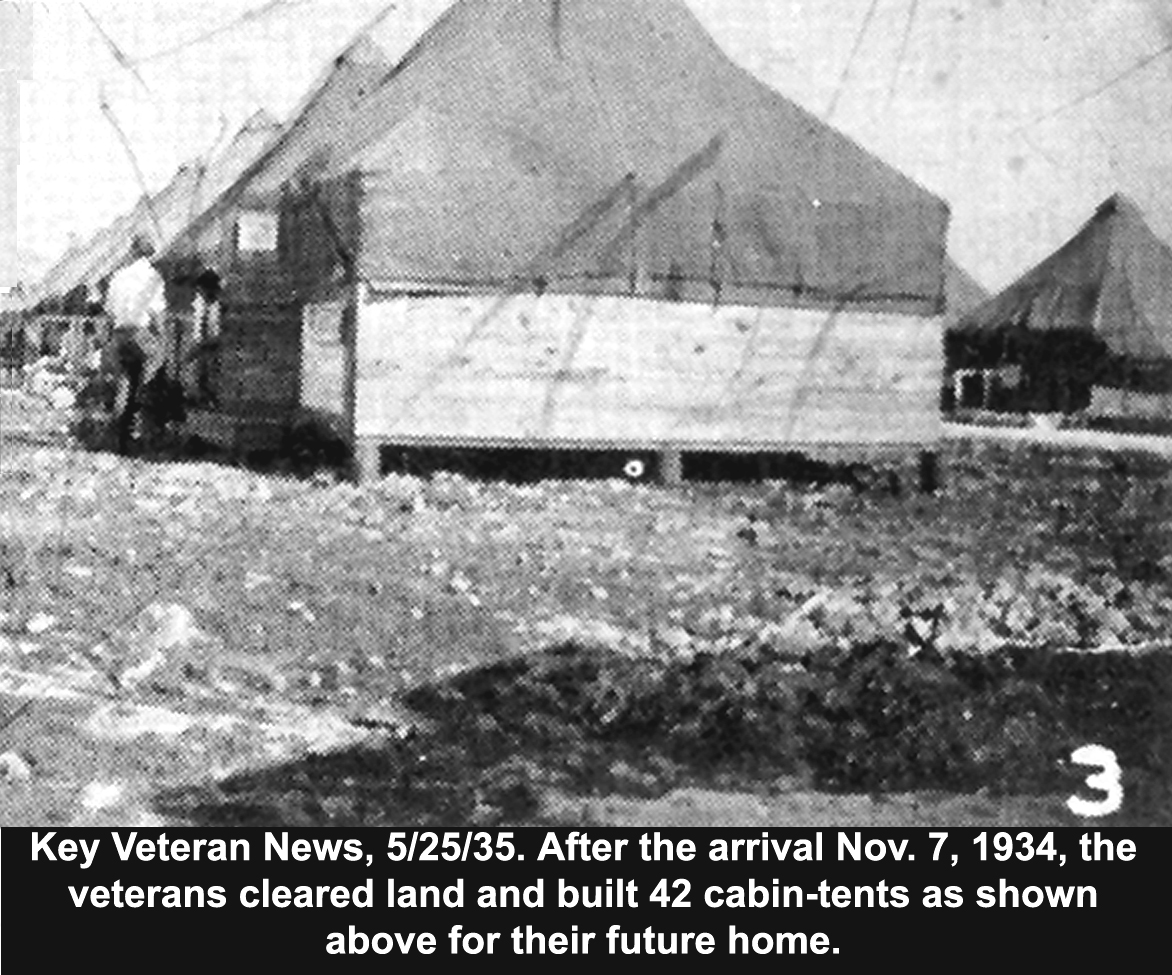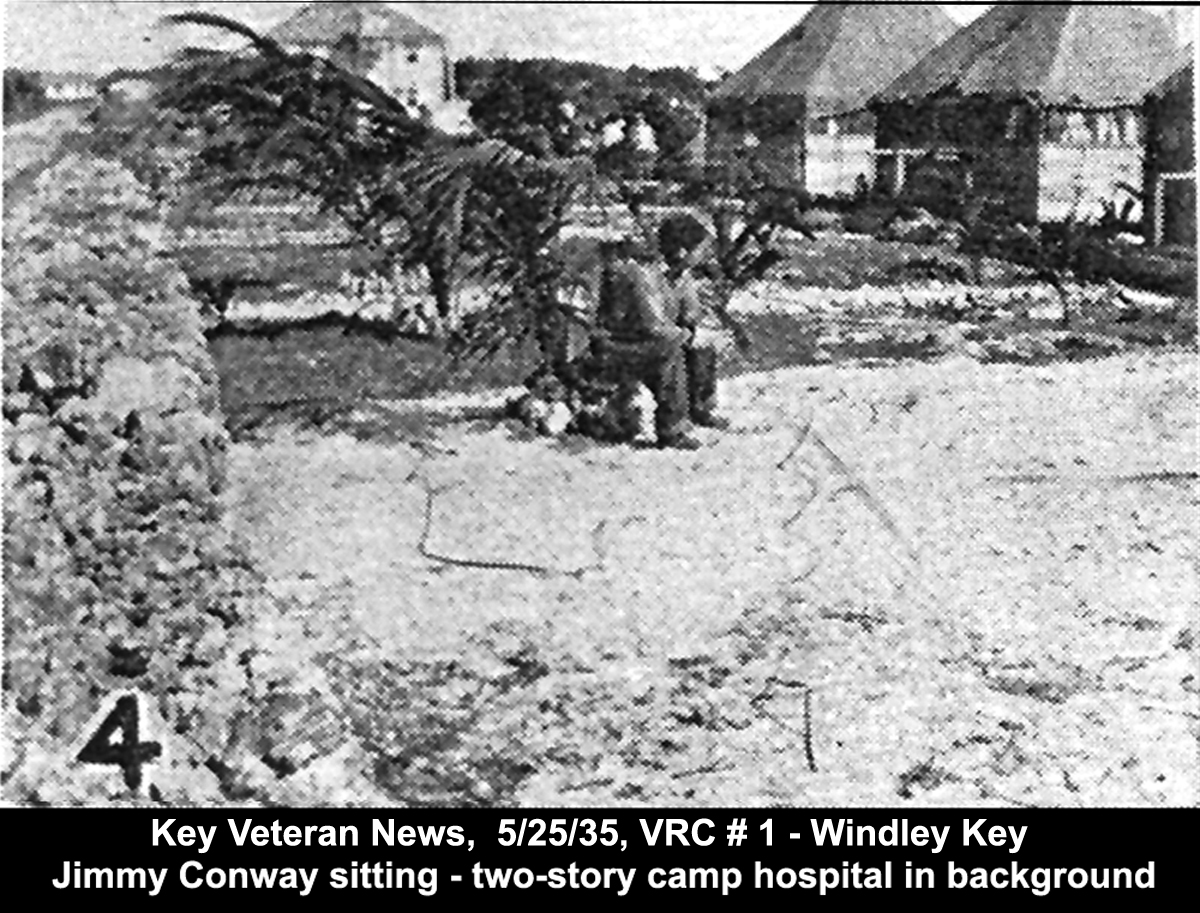 -
-
-
-
-
-
-
-
-
-
-
-
-
-
-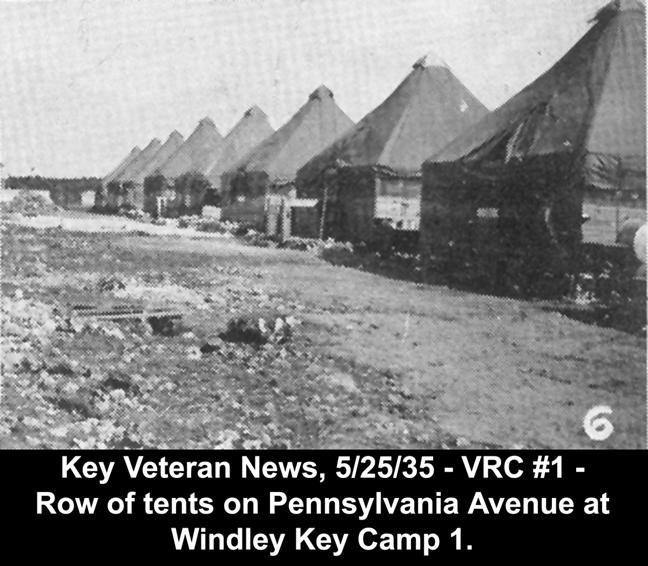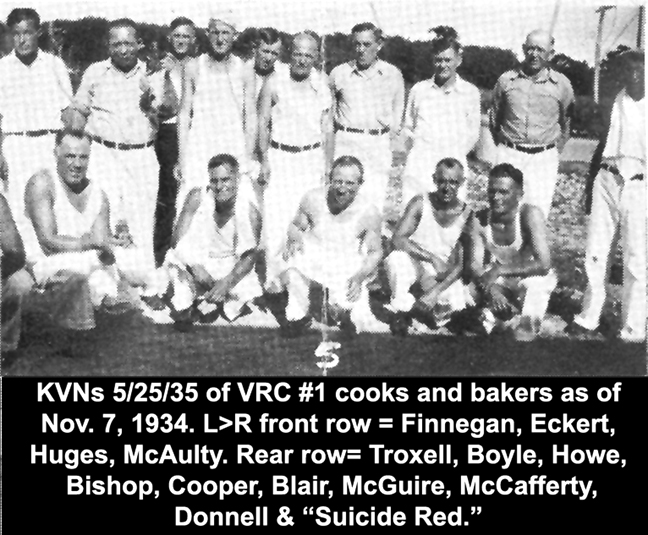 -
-
-
-
-
-
-
-
-
-
-
-
-
-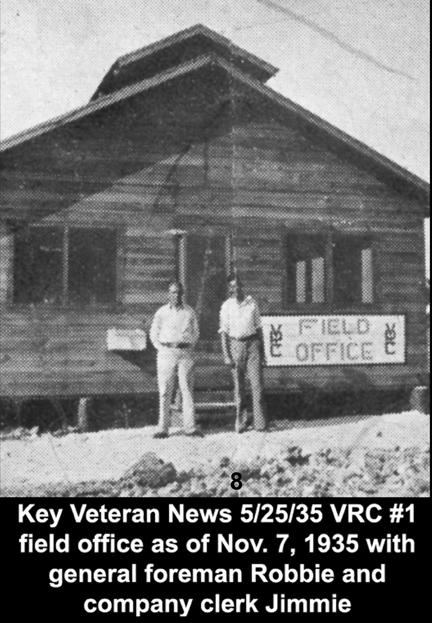 -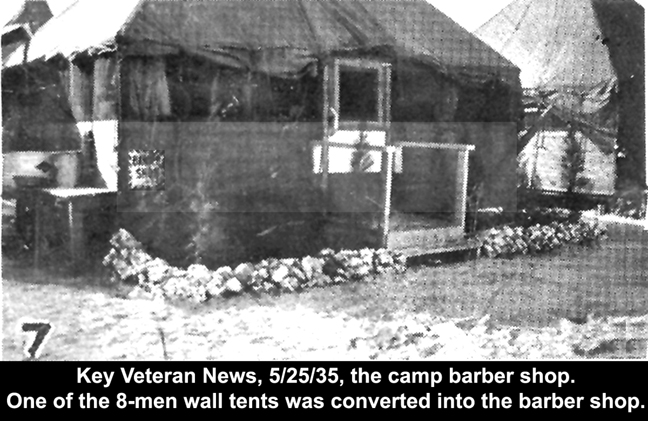 -
-
-
-
-
-
-
-
-
-
-
-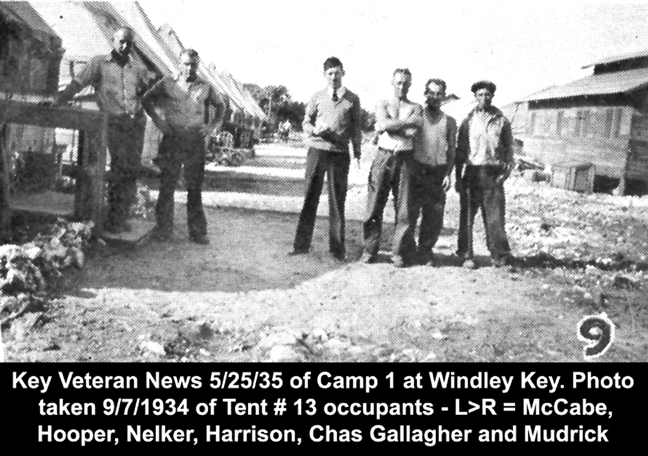 -
-
-
-
-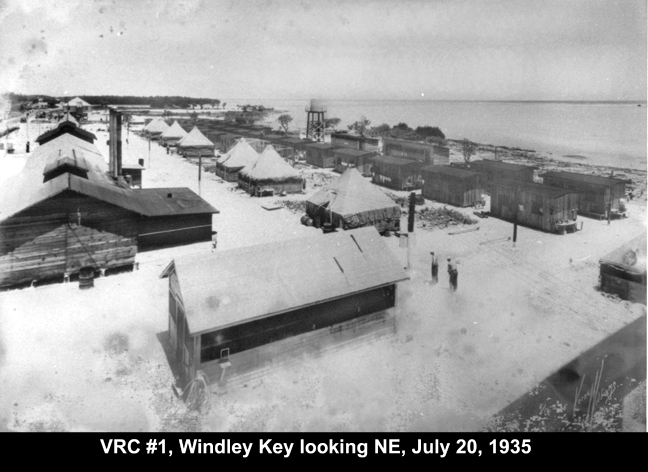 -
-
-
-
-
-
-
-
-
-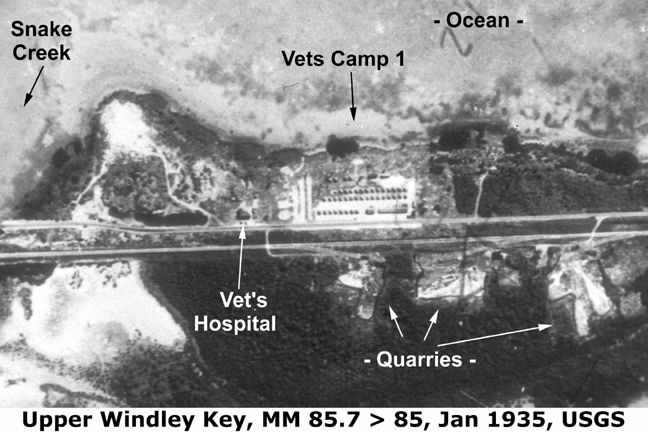 -
-
-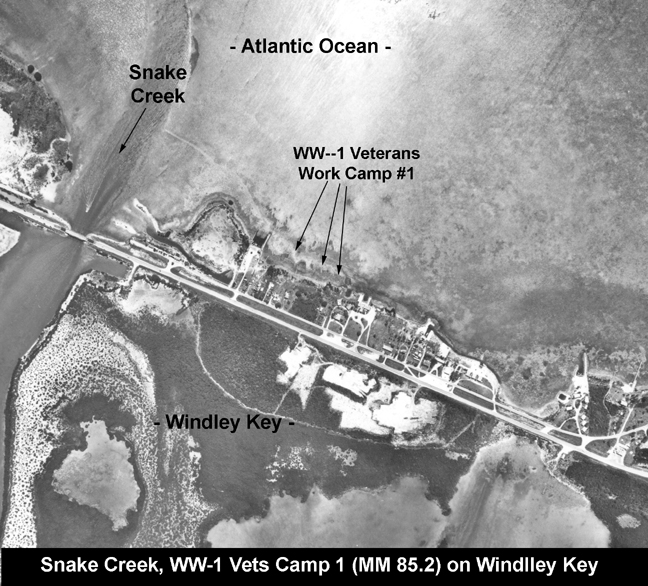 -
-
-
-
-
-
-
-
-
Above and to the right are two aerial photos
which if you are familiar with Windley Key should
orient you of its location. Another hint it is about
900 feet south of Snake Creek.
We are NOT through with Camp 1, as the
above is the base or living site. The work site was
about a half a mile, or so north across Snake Creek. And this work camp was not for the faint hearted as it was work quarrying and shaping five ton coral rock blocks mostly by hand. Another bit of Keys history unknown by 99% of the folk. To proceed: Click here.