Life and Times of
William John Matheson
- Page 3 -
These pages by Jerry Wilkinson
- A visit to south Florida -
In 1902 Hugh was enrolled at Pine Knot Camp and his parents, William J. and Harriet, aboard their steamer yacht Laverock were vacationing not far away at Henry Flagler's Ormond Beach Hotel. Ormond Beach is just north of Daytona Beach. Hugh invited his father to visit him and to make certain that he would, Hugh chartered a sailboat on Biscayne Bay for the event.
Even after William J.'s distressing childhood sea adventure going to Scotland in 1865, he became an avid seafarer and sailor. Hugh's sailing promise was all it took for William J. to weigh anchor and cruise the Laverock to the Coconut Grove area.
Similar to Henry Flagler's falling in love with the St. Augustine area on his first visit, William J. fell in love with the Key Biscayne area and returned the following year to commence purchasing property in or near Coconut Grove on the mainland for a winter home.
From another undated New York newspaper clipping we read: "The most southerly mansion on the mainland of the United States is being pushed to completion by W. J. Matheson of Lloyd's Neck L. I. . . . The location of Mr. Matheson's fifteen acres is a mile south of the Cocoanut [sic] Grove Post-Office, the land being on either side of the highway [This would be in the area where Ingraham Highway, Douglas Road and Main Highway meet. Matheson Avenue leads to the bay.]" The article goes on to describe the fauna of the area and the colony of Bahama Negroes with two churches and an Odd Fellows' Hall at the rear of his estate.
In her article Along The Grove Road, Marjory Stoneman Douglas wrote in 1957, "I don't suppose anyone ever loved Coconut Grove and Key Biscayne better than W. J. Mathson. He built his great house on the rocky ridge, wit a big open patio and a wide pillared veranda from which he could look down over his long lawn under vaulting and arching of coconut palms to the glitter of the bay beyound his boat docks."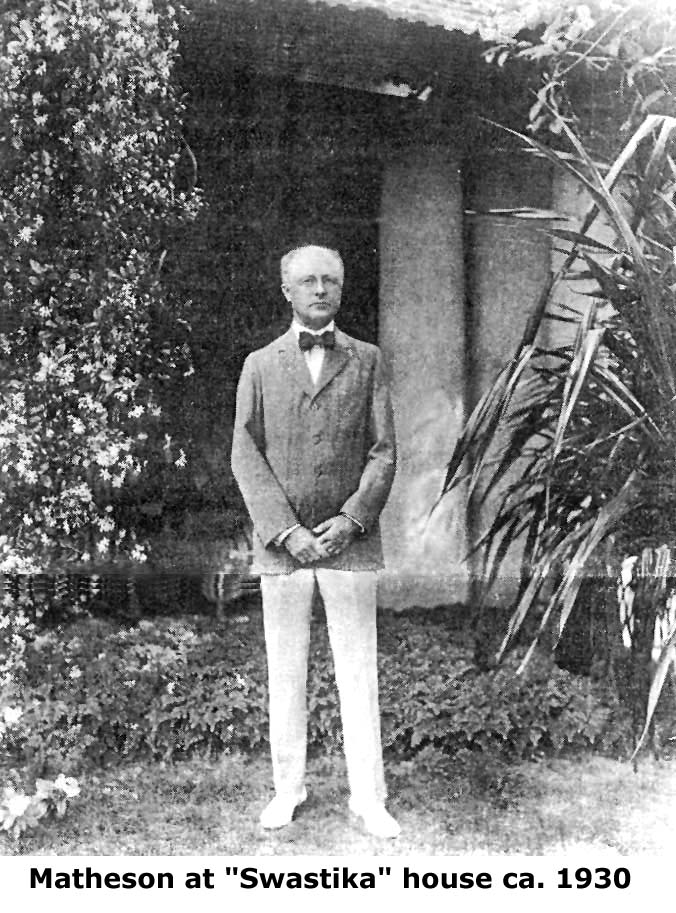 Except for the omission of his entertainment house on Key Biscayne, the 1930 Social Register and Blue Book of Greater Miami summarized his residences. His winter address was 3645 Ingraham Highway, Coconut Grove. His summer address was 540 Park Avenue, New York City. His country address was "Fort Hill," Lloyd Neck, Long Island, N. Y.
The winter house on Ingraham Highway was knows as the Swastika, that is, until World War II. Swastika is a symbol from India for the sun. The Indian symbol has its arms vertical and horizontal whereas the later Nazi adopted symbol the arms were turned at a 45 degree angle. The Indian version also has curved ends to form part of a circle to represent the sun. It is a Greek cross inside of a circle with part of four segments of the circle removed. Regardless, the name was discontinued during the war.
After his death, the Swastika house was given to his son, Malcolm, and later demolished.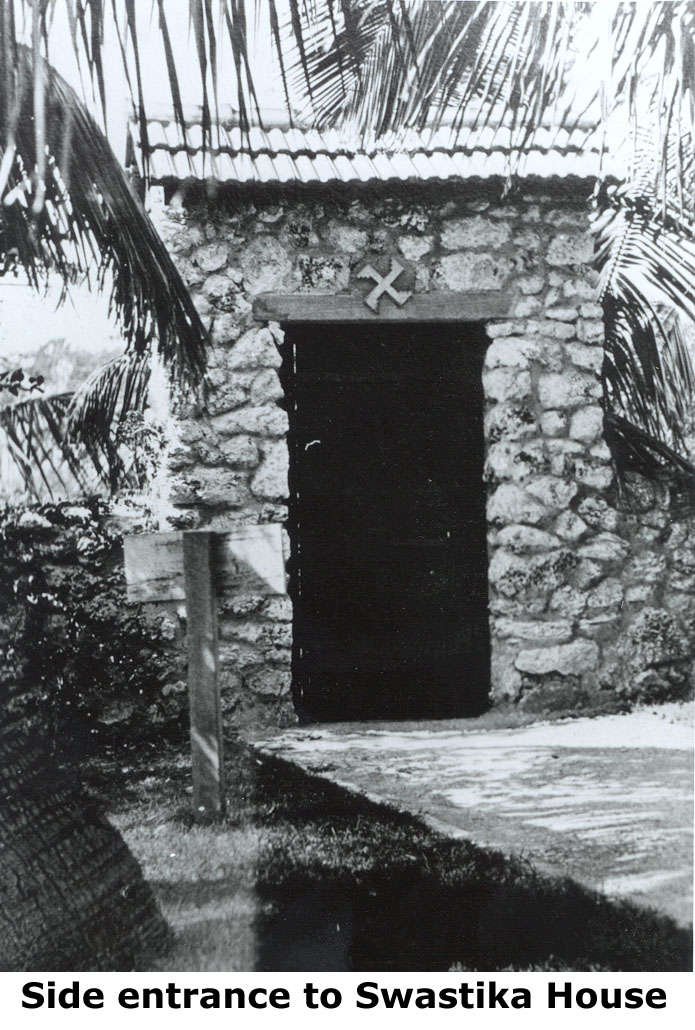 - South Florida in 1900 -
It is only fair to mention that the population of Miami in 1900 was about 1,700. A summary of Miami area events around this time period is: Ralph Middleton Munroe had built the Barnacle in 1891. Henry Flagler had opened the Royal Palm Hotel in 1897. The Florida Audubon was founded in 1900. Marjorie Stoneman Douglas was born in 1890. David Fairchild first visited a garden in Miami in 1898 and returned in 1912 to work with Ed Simmons. Charles Torrey Simpson, the region's first naturalist, moved to northeast Miami in 1902. John Gifford, the first American to hold a doctorate in forestry, moved to Coconut Grove in 1902. James Deering of International Harvester Company began building the Viscaya in 1914. His brother, Charles, purchased the entire community of Cutler in 1915.
Well-heeled winter visitors to the Miami area were Carl Fisher of the Prest-o-Lite Company, Marshall Field, the Chicago merchant magnate, Andrew Carnegie of Carnegie Steel, Arthur Curtis James of copper and railroads, Charles Armour of Armour Meats and Glenn Curtiss the aircraft manufacturer. The author notes that had William J. only wanted an opulent place to winter, Flagler's Royal Palm Hotel would have served this purpose, so he obviously had other motivations. In 1902 William J. was only 46 years old.
Next in order was the birth of his last child, Malcolm. Not much is know of Malcolm except that he married Julia Culbertson in 1911. Julia had come to Miami from Kentucky with her parents, Mr. And Mrs. William W. Culbertson. They lived in Alexandria, Virginia, but had a winter home at 8565 Old Cutler Road in Coconut Grove. They had one son and three daughters.
One of the early Coconut Grove residents that William J. met was Ralph Middleton Munroe. Munroe built William J. a tunnel-stern towing launch called the Loon. Munroe in The Commodore's Story relates, "She was an interesting experiment in screw propulsion for very light draft and made a satisfactory work and errand-boat." It appears that Munroe thought of William as just another rich northern tourist.
- Key Biscayne –
Son, Hugh, graduated from Yale University and went to work at one of his father's chemical companies. Meanwhile, William J. began to purchase portions of the island of Key Biscayne. It is said the beautiful island across Biscayne Bay was just too tempting for the lover of tropical islands so he had to buy it. About all that was on the island was the Cape Florida Lighthouse at the southern end. It was not an active lighthouse as the Fowey Lighthouse just off shore was in service. The island was only accessible by boat and there were no utilities although William later constructed irrigation and electric systems.
By 1908 William J. had purchased the northern two thirds of the island, or about 1,700 acres. He finally had a place for his green thumb to exercise thoughts he had had since playing in tropical British Guyana as a child. While Key Biscayne is actually the subtropics, it sure seemed like the tropics.
William J. began clearing land and experimenting with limes, mangoes and avocados; however they were planted too close to the salt spray to be commercially successful. Also, it could have been that he still had to spend too much time with his businesses in New York. He never lived full time in Florida.
The sea appeared to be a part of William J. Matheson's life. It was obvious throughout his long and eventful career that he had an attraction to the ocean and tropical living. This was manifested again when he took the helm as commodore of the Biscayne Bay Yacht Club (BBYC) in 1912. Hugh joined the club the same year. Commodore Matheson kept the helm until 1923, more consecutive years than any other skipper except founder Ralph Middleton Munroe (1887).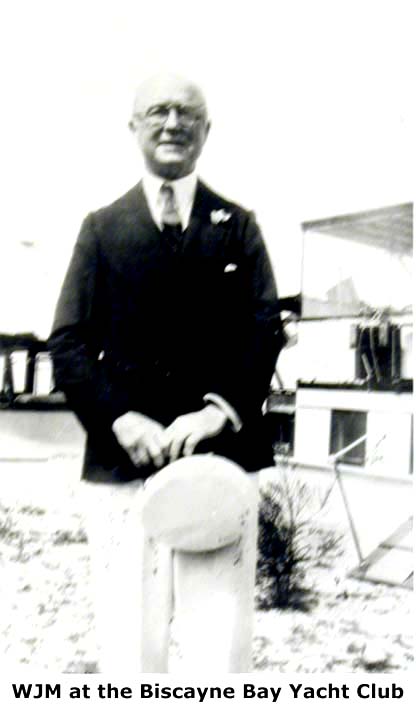 The commodore's close friend, Arthur Curtis James (the world's second richest man), with whom William J. sailed aboard James' famous yacht Aloha (See James' book Aloha) was a frequent visitor to the BBYC, but never became a member during William J.'s tenure. He stepped down in 1923 leaving a healthy club, an illustrious membership, but an indicator to time. In 1887 all the member's boats were wind powered – now only five were.
A tragedy brought son Hugh back to Florida. While working for his father's chemical houses Hugh contacted an illness that was diagnosed as Mad Hatters Disease – lead poisoning. Lead poisoning was not uncommon among workers with chemicals, dyes and among tanners.
The doctor's prognosis was good however, if he would remain outdoors in the fresh air and sunlight as much as possible. Somehow, the fresh air and sunshine would systemically remove the lead from his body.
This was great news for his parents as they felt somewhat responsible for Hugh's poisoning. Two significant outcomes of the incident were, one being that Hugh had found a lifelong mate. He fell in love and married his nurse, Ligouri Hardy, in 1911. The second was Hugh could be outdoors and be of immense assistance to his father by overseeing his south Florida holdings. Therefore, managing the Coconut Grove, Key Biscayne and future properties filled the outdoor living prescription for Hugh Matheson. It was one that he would enjoy and he had a mate to share it with. From here on William J. will create, set policy, form plans and write the checks, but Hugh will execute them. William J. still had a lot of work ahead of him in New York.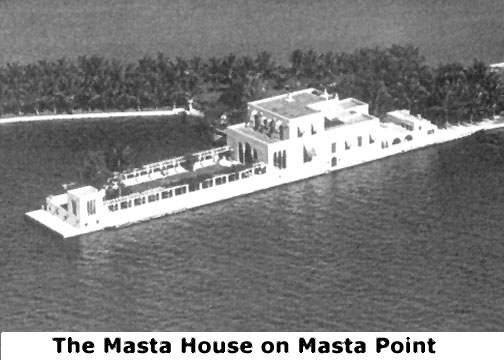 By 1911, William J. had acquired much of Key Biscayne. It was up to Hugh to drain and fill swamps, clear roads, create yacht basins, expand planting facilities, construct worker quarters and plant coconuts by the thousands. By 1915 eighteen miles of roadways were created. None were paved.
Of the Long Island 330 acre Fort Hill estate, one writer wrote that Mr. Matheson set about to turn it "into a gentleman farmer's self-sufficient estate." This was not a bad description of his 1,700-acre Key Biscayne estate, except it was only a weekend estate for him - a place to entertain his friends.
In 1915 there were forty-two workers, which increased to 60. They all lived on the Key, as there was not a bridge until 1947. William J. built in 1909 on the bayside of Key Biscayne at Mashta Point a palatial concrete weekend and getaway entertainment home named "Mashta House." It was of Moorish style with a huge ballroom and high domed ceilings. Mashta is an Egyptian name "meaning home or resting spot by the sea."