The following is a view of the Indian Key that encompasses more than the sensationalism of wreckers and Indians, the before and after vis-a-vis the reign of Jacob Housman from 1830 to 1840. Indian Key is critical to the history of the Upper Keys. It was its first settlement, became the county seat for Dade County, served various transitory functions, then fell into relative obscurity after the 1935 hurricane. Today it is a state park.

To set the stage for Indian Key, a little chronology will be repeated. In 1821, Congress approved Florida as a U.S. Territory and on March 25 of 1822, Lt. M. C. Perry took physical possession of Key West. He planted the U.S. flag to prevent another disagreement over whether or not the Keys were a part of Florida.

The following year, Commodore David Porter was sent to clear the waters of pirates so U.S. shipping could proceed in peace. On March 3, 1825 Congress passed the Federal Wrecking Act prescribing that all property in these seas must be brought to a U.S. port of entry. In 1828 the U.S. established a superior court in Key West with admiralty jurisdiction. The only other east coast court was at St. Augustine, so most of the Florida Keys wrecking property was taken to Key West.

Now to Indian Key. Exactly how and when the name originated is debatable. The Key's harbor was probably used first as an anchoring location for early ships to obtain fresh water located on Lower Matecumbe Key. Its name does not seem to appear on early charts. In 1742 Liguera shows it as Cayuelo de las Matanzas (slaughters). The Alana chart of 1743 shows Cayo Frances (French). The DeBrahm chart in 1772 shows it as Matance (slaughter). Then in 1774, George Gauld quotes Captain Barton, a mid-1700s English sailor referring to it as "Frenchman's Kay." In New Orleans while researching the French connection with Indian Key, I came across the following story, but no documentation. Perhaps the Internet can assist us.

"Story: The French were needing laborers in today's Louisiana/Mississippi area. Someone raided the French prisons and loaded the prisoners aboard a ship/s. Somewhere in the Keys waters the ship/s wrecked and the Indians killed all of crew and passengers. Since the act had the sanction of the Crown and all were killed, the entire act was 'covered up' or not recorded. Enough of this event got out to cause the island to be named on some maps as Franses (the county of France), Frenchmen's or Matanzas (slaughter) Key."

Anyway, Indian Key was not part of the Spanish land grant properties, therefore immediately became U.S. public property in 1821. It was in 1830 that Congress established "the pre-emptive right on all public lands." If executed correctly, legal land title could be obtained under the pre-emptive rights law after official state surveying. For Indian Key, official land survrying was done in 1872. In other words, the "pre-emptive rights" pre-empted any and all other claims. No one did this for Indian Key, yet the Island's settlers exchanged fully recorded land deeds back and forth until 1910.

Since the first federal census was not until 1830, we do not have a definite picture of Indian Key's original inhabitants, but the following is a summary based on early Key West court records. Silas Fletcher settled on Indian Key in April 1824 to sell goods to mariners for Solomon Snyder and Joshua Appleby of Key Vaca. It was decided to build a house and a store, for which, a Joseph Prince was hired as an assistant. Silas, his wife Avis, and two children, William and Abigail, used the house.

Evidently, Silas and Prince formed a partnership and purchased the holdings of Snyder and Appleby in January 1825. For reasons unknown, Joe Prince decided to leave a few months later (May) and according to Silas Fletcher, Joe Prince sold to him his half of the partnership's business interests. Later Silas purchased from Prince the building that housed the store.

Silas did not have a commercial monopoly for long, as Joe Prince returned in 1826 and opened a competing store. This indicated that there was enough business on Indian Key for two stores. Remember that all of this happened some 65 years before Miami was incorporated. Key West was incorporated in 1828 and had a U.S. Superior Court. Silas Fletcher sold all his Indian Key property to Thomas Gibson for $2,500 and departed Indian Key in 1826. All of these property transactions are recorded in Monroe County Deed Books A, B and C in Key West. No other island name other than Indian Key is mentioned. Prince and Gibson are shown in the 1830 census, and Fletcher is not, as should be.

Concerning Indian Key, Dr. J. B. Holder writing for Harper's Magazine in 1871 wrote " Indian Key is one of the few islands of the Reef that can be called inhabited. Here for many years the wreckers have resorted, as it is convenient as a midway station and the safest harbor in heavy weather...."
It is thought that by 1829 the island's population was around 50 people, mostly transient fishermen, turtlers and wreckers. Enter Jacob Housman of Key West, who was sold a building by William Johnson in November 1830, then a store and a building by Thomas and Ann Gibson in July of 1831. Supposedly, Housman wished to break away from the control of those in power at Key West.
The story of Jacob Housman's reign at Indian Key from 1830 to 1840, and its finale with the massacre, has been told and retold many times. This period is the primary focus of most short story writers. The following is a summary of the major events of that period.
Somehow, in the early 1820s John Jacob Housman obtained his father's sailboat and set sail for Key West from Staten Island, New York. He ran aground before reaching his goal and was personally indoctrinated into the Keys' wrecking industry, in which he became immediately interested. While in Key West he learned the intricacies of the wrecking business.
In the year 1825, as a Key West based wrecker, Housman transported the goods from the French ship Revenge on Carysfort reef to St. Augustine, where he persuaded the court to award him a 95 percent salvage award. The award was hotly contested by the French consul and reduced to two-thirds.
After encounters with his associates and the wrecking courts, Housman began looking into establishing a more favorable port of entry, an admiralty court and a customs house. This led to his additional 1831 purchases on Indian Key of a two-story house, a store, a 9-pin bowling alley, billiard room, guest house and kitchen from Thomas and Ann Gibson for $5,000.00. Housman then proceeded with additional purchases to set up a mini-empire under his control.
Just what role Housman had in establishing a new county is not recorded very well. The facts go like this. Monroe County's own Territorial Representative, Richard Fitzpatrick, divided it into two counties on February 4, 1836. Therefore, a new Florida county was created from the east part of Monroe County beginning just north of the western end of Bahia Honda Key. The name Dade was given to the new county in honor of Major Francis Dade, who was killed at the onset of the Second Seminole War near Bushnell, Florida. Indian Key was designated the temporary county seat of Dade County. The Middle and Upper Keys remained part of Dade County until the counties' present boundaries were established in 1866.
Research of public records for the Middle and Upper Keys from 1836 to 1866 must be derived from Dade County records. This was one reason I chose the census of 1870 as my reference census. Middle and Upper Keys residents during 1840, 1850 and 1860 were included in the Dade County census and generally were not separated from the mainland population.
The tensions of the Second Seminole War were felt in the Keys. In January 1836, Indians attacked the Cooley family in present-day Fort Lauderdale and burned the Cape Florida lighthouse on Key Biscayne. On June 28, 1837, Captain Whalton of the Carysfort lightship, "Florida," and one of his crewmen were killed on Key Largo. Frequent sightings of camp fires at night were attributed to the presence of Indians.
Housman took almost immediate action to protect his investment. He established Company B, 10th Regiment Florida Militia with himself as commander and a cadre of 38 men including 6 slaves. The pay was 30 cents a day plus 50 cents a day for rations. The militia was disbanded in 1838 when relieved by Captain Rudolph of the Cutter Dexter. Housman later made a claim for the expenses incurred for the militia.
Meanwhile, Dr. Henry Perrine while U.S. Consul in Mexico had been sending experimental plants to the Keys area and formed the Tropical Plant Company. Upon returning from Mexico the doctor had been warned of the Indian unrest in Florida; however, he went to Indian Key in December of 1838 anyway. He used a two-story house of Charles Howe for his family and base of operations. He proceeded with his agricultural plans almost as if no hostilities with the Native Americans existed.
On March 16, 1840, a Mr. Downing presented to the governor and legislative council of Florida Jacob Housman's proposition to catch, or kill, all the Indians of South Florida for $200 each. (See the Journal of the House of Representatives, Monday, March 16, 1840, page 612.) Action on the proposal was referred to the committee of military affairs. Whether the above had any adverse effect or not is conjecture.
Early in the morning of August 7, 1840, Indian Key was attacked by a large party of Indians. It is a long story, but in summary on August 6, 1840, Lt. Rodgers departed neighboring Tea Table Key for the west coast of Florida with all military personnel capable of service. This left only the civilians on the island as the defenders. At about 2 A.M. on August 7, Chief Chekika and his group of warriors landed on the west coast of the Key and were shortly discovered. Taken by surprise, the residents either fled or were killed and most of the island burned.
According to the August 29, 1840 issue of the Niles National Register, ". . . The following persons were on the key at the attack: Mr. Houseman[sic] and wife, Mr. Chas. Howe, wife and 5 children, Dr. Perrine, wife and 3 children Mrs Elliott Smith, child brother and mother, Mr. Goodhue, clerk of Mr. Houseman's, 8 men, crew of the wrecking sloop Key West, and some 10 or 12 negroes, the latter all saved. Out of this number Mr. Motte, wife and two children, are destroyed, and Dr. Perrine and the brother of Mrs. Smith, with all the houses except one of Mr. Howe's. . . ."
Housman escaped, but his Indian Key empire was in ashes. Housman made a government claim for $114,630 contending that he had operated a naval depot which the government failed to protect and he personally paid for a company of Florida militia for which he was not reimbursed; therefore the government was liable. After his death in Key West on May 1, 1841, Mrs. Housman could not prove her marriage and was refused her claim as executrix of the estate. Housman's father Abraham became administrator. He entered a plausible lawsuit with 19 affidavits from people who allegedly witnessed the incidents. The case went to the U.S. Senate Committee on Claims who agreed that Housman's warehouse had indeed been used by the Navy for storage and the Navy had left the island unprotected.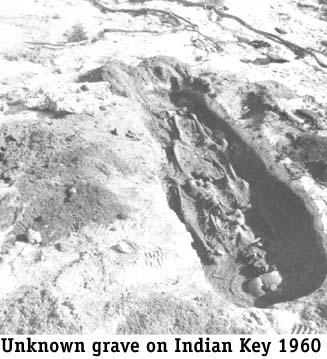 Be that as it may, in 1848, the committee on claims once and forever denied all the Housman claims stating that he was "a mere tenant at sufferance of the United States." In other words, all this time "they were all squatters on public domain," and ". . . had no real rights there whatsoever." It further stated that if he had chosen to contract and "store goods which attracted the cupidity and other passions of the Indians . . . it was his risk and not that of the United States."
After the 1840 massacre, the Florida Squadron of the Navy moved to Indian Key, but only stayed there until the end of the Second Seminole War in 1842. The 10.4-acre island was sold at public auction January 15, 1844 to Messrs. Mowry and Lawton, mortgage holders from Charleston, S.C. The Great Hurricane of 1846 did considerable damage to the structures that the Navy had left. (Indian Key had been lucky as from 1820 until 1846 no significant storms had made contact.) W. H. Hilliard is thought to have operated some kind of a store after the hurricane. Hilliard acted as the agent to lease the island to the U.S. Army Corps of Topographical Engineers for 15 months at $20 a month for the construction of the Carysfort Lighthouse. George Meade revealed the negotiation in his letter of June 30, 1851. Indian Key itself had been suggested for the location of a lighthouse at one time.
In January of 1852, Joseph Lawton sold his rights to Indian Key, including the Hilliard store, to Smith Mowry. Mr. Hilliard served as Lawton's agent for Indian Key for some time. A letter from William H. Bethel dated March 10, 1856 (during the Third Seminole War) to Mowry reveals Mr. Bethel living on the Key alone. He and the owner Mowry petitioned for troops to be sent to protect the island against the Indians so Bethel could move his family there from Key West. Bethel was deeded Lignumvitae Key in 1881. Bethel evidently also acted in the capacity of Inspector of Customs.
A military garrison was sent to Indian Key in 1856 because of concerns of Indians seen in the surrounding areas. This was the time period of the Third Seminole War. Mowry indicated that he owned 24 or 25 houses on the Key and he feared that they would be burned. These were offered for use by the military.
The present Upper and Middle Keys, including Indian Key, became a part of Monroe County again in 1866. Two companies of the 3rd Artillery were sent to Indian Key for a short stay again in 1869.
Between 1868 and 1875 records indicate three ships were registered in Key West that were built at Indian Key. The first was the 34 feet long, 11 ton schooner Emma registered in 1868 with J. Fernandez as master. Second was the 33 feet long, 10-ton schooner Euphemia registered in 1873 with George Bartlum as master. Third was the 37 feet long, 13-ton schooner Clyde registered with Agustas Sands as master. This would have been the period that the aforementioned Dr. Holder passed through in 1871. Indian Key did not disappear after the massacre of 1840.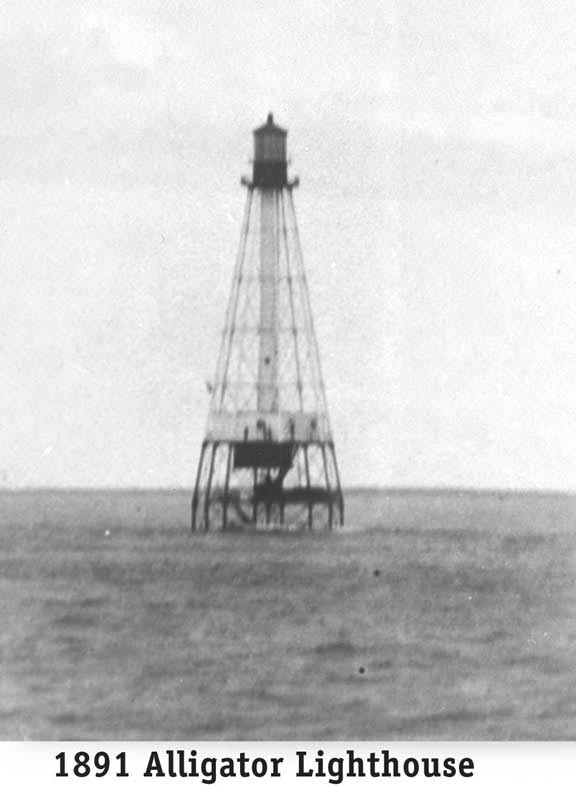 Indian Key once again became involved with the lighthouse service when it was used as a depot to store and pre-assemble the Alligator Reef lighthouse from late 1870 to 1873. In 1876 Henry Perrine Jr. revisited Indian Key for an hour. He commented that "There are perhaps half dozen common dwelling houses scattered about the central portion of the Key." In 1885 bananas valued at $8,000 were shipped by the Pinder families from Indian Key. The Pinders were probably living on Upper Matecumbe Key by then as their homestead had been proven by 1885.
Newspaper accounts reveal that Henry Flagler used Indian Key to support his dredging operations in the middle Upper Keys. It was especially important during the early construction of the Indian Key Fill causeway. The island and it wharves were used to support dredge operations.
Another unidentified, but dated September 11, 1909, clipping reads: "The extension well at Indian Key water station is now down ninety feet. The Messrs. Walker, who have charge of putting down this well are determined to make a record. Twelve-inch casing is being supplied from the Long Key machine shops." Fresh water of sufficient quality was not found and the well opening used to be near the southwest corner of the townsite square. Flagler eventually bought Indian Key from the state, but had the land patent issued to Elizabeth H. Smith of Duval County, Florida. The patent is dated June 30, 1909 but was not filed until October 16, 1913, six months after Flagler's death.
At the time of the 1935 hurricane, two unemployed telegraph operators were using Indian Key as a fishing location. The Miami Herald of September 4, 1935 gave their names as Lee Colter and Bill Hanlan. After the hurricane, one was found draped over a cistern with a broken back and the other was reportedly found drowned on Lignumvitae Key. In 1971, the State bought the Key and designated it a historic site. The saga continues as historic groups attempt preservation and restoration.
The complete history of Indian Key, a small but populated island half way between Key West and Miami (Fort Dallas), is much more detailed than the above. It is interwoven with the history of wrecking, orchestrated by a character named Jacob Housman at its peak, and its most famous event occurred during the Second Seminole War. With the public records divided by Monroe and Dade Counties and the massacre finale of burning almost everything up to 1840, its historical facts, legends and sensationalism's are difficult to separate. However, with the time and effort of researching the archival records and the writings of the Perrine children and others, its history can be approached. However, as with Herrera and Fontaneda, many of the comprehensive writings were made many years after the event. For reasons of space, only the principal data has been presented here.
-----End-----