Neighboring Pigeon Key, Cayo Paloma on Spanish charts, was a major stepping-stone for the railroad construction. Like Long Key, Marathon and Bahia Honda, a major construction camp was built on Pigeon Key. It survived as the Overseas Road and Toll District base of operations. It is the only large collection of railroad buildings spanning these two eras that remains. See Pigeon Key page.

Marathon had a school as early as 1909, which was, as in the rest of the Keys, a one-room schoolhouse. Well known Upper Keys Charles "Prof" Albury taught school in Marathon in 1929 before moving to Matecumbe to teach with Ferran Pinder, and then to Tavernier after the 1935 hurricane. He retired in 1966 as the principal of Coral Shores High School.

Marathon was not damaged significantly in the 1935 hurricane but there was a loss of life. From the Miami News dated September 6, 1935, "12 Dead Found at Marathon, Grassy Key By Rescue Craft - Six are dead at Marathon key, including Manager Lilja of the Thompson Fish Co. there, and six negroes are dead at Grassy Key. . . ." To read a government report of an inspection made on September 16, 1935, please Click HERE. Use the BACK ARROW to return here.

Mrs. Sue Moore followed "Prof" as teacher, but moved to Big Pine Key after the 1935 hurricane. Monroe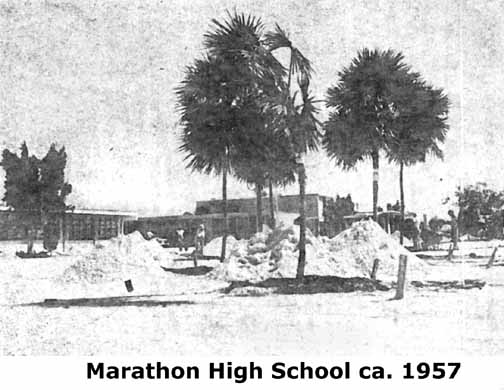 County's school newsletter "Tropic Topics" states that in 1938, Mrs. Sue Moore and Mr. Woodburn (the postmaster) of Marathon submitted a list of 15 students for a school at Marathon. One of the buildings owned by the Bridge District would be repaired and house the school. The School Board approved the proposal and requested that the Bridge District allow the school bus to pass through the tollgates without charge. When speaking of Marathon school history, one must mention Mrs. Eva McKinney. When school opened in September, 1947 there was no teacher. Mr. and Mrs. McKinney of New York City had purchased land in Marathon and hurried there to teach. She taught at the Sue Moore School for 18 years. Ground would not be broken for a high school until October 5, 1956. The Marathon High School opened the following year with Gerald Guthrie as principal. The high school PTA held its organizational meeting in May 1957 with Lillian Tingler nominated as president.
-

The largest Keys fish story took place in 1912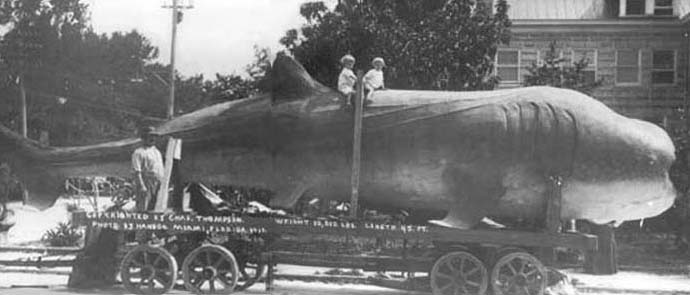 just off of Knight's Key. Captain Charles Thompson of Miami harpooned a 38-foot-long whale shark that reportedly took about 39 hours, five harpoons and more than 100 bullets to subdue. The 26,594-pound whale shark was towed to Miami, preserved, stuffed and exhibited on a railroad flat car. The sign on the flat car read "weight 30,000 lbs. Length 45 ft." All went well until it was accidentally destroyed by fire in 1922.
-


One of the first, if not the first, fishing guides in Marathon was Captain Harry Snow. Harry came from New York as a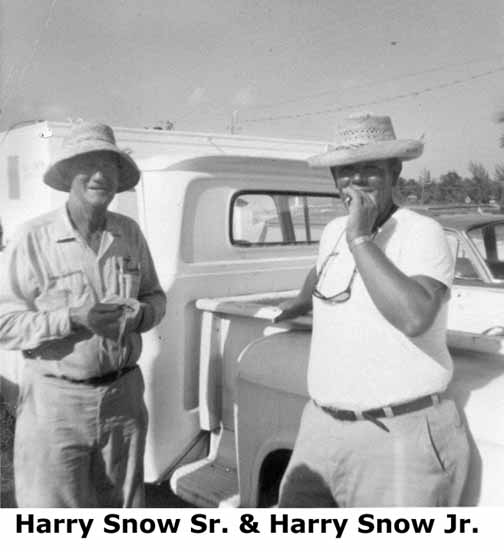 railroad supervisor in 1926. He was a hard-hat diver performing underwater inspections of the railroad piers. That same year he caught his first bonefish. After the 1935 hurricane severely damaged the railroad, he became an inspector for the Overseas Road and Toll District from which he quit to become a full time "flats" fishing guide in the Middle Keys. His son, Harry Snow Jr., followed in his footsteps as a fishing guide.
Fishing was and is an important part of Keys living. To see other early photos of the Marathon fishing industry Click HERE, then use the back arrow to return to this location.
William and Mary Parrish moved to Marathon in 1927 with five daughters and one son to operate a fish house. Captain Snow married one of the daughters. The Parrish family watched the town grow as the first Overseas Highway with ferries went into operation. The family was instrumental in re-opening the school in 1928 by inviting a teacher, Miss Tessie Kyle, to live in their home. After the 1935 hurricane and the subsequent new highway opened, William Parrish became Marathon's first real estate broker. The highway also ushered in Greyhound Bus service (1938).
One of the seldom mentioned, old time residents was Stephen C. Singleton. He homesteaded on Ramrod Key in the railroad days, sold real estate in the Upper Keys during the 'land boom', then managed the Key West Chamber of Commerce, but chose Marathon for his last days. In 1915 he wrote:
The Florida Keys
Southwest, southwest are flung
The emerald beads that mean
So little to thee now, O Florida!
And yet, when they are cut and strung
And set with gold, and Nations bow
Before their matchless beauty,
In full-voiced chorus shall be sung
Thou thanks to thy Creator
Who did thee thus endow.
The 1930s brought change to Marathon and it was change that stayed. The 1909 post office had gone through a few postmasters. In September of 1929, Arthur Woodburn took over as postmaster, a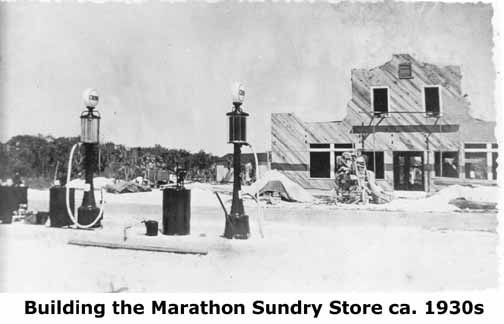 position he held until retiring in 1948. His Marathon Boat Yard was the post office and his wife ran a grocery store. H.S. McKenzie came down from Tavernier to construct the Sundry Store. In 1937 Jodie and Lulu Hall started building Hall's Fishing Camp with overnight accommodations. A few more cabins were added each year. Soon William Thompson built his Marathon Yacht Basin.
-
-
-
-
-
Marathon continued to grow slowly like the Keys other than Key West. For one reason there were fewer amenities - no electricity, few churches and no high school. Here is a photo of Marathon around 1939.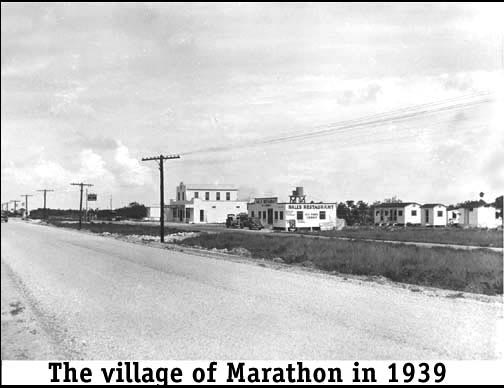 The large building is White's Sundry Store. The Toppinos opened the Overseas Lodge. Gilbert and Maud Spense opened the Flamingo Bar and Restaurant (1945). Next in time was World War II. Did World War II impede Marathon? The answer is generally no.
The advent of World War II brought electricity and fresh water to all the Keys, but Marathon also gained an airport and a Coast Guard facility. The Florida Keys Electric Cooperative Association, Inc. (FKECA) was certified by the Florida Secretary of State on January 22, 1940 with an office address of the "Marathon Grocery, Marathon, Florida." It had its first board meeting four days later and John A. Russell of Islamorada was elected chairperson. Of the incorporators, one was from Stock Island, two from Marathon, one from Islamorada, two from Tavernier and three from Rock Harbor.
Electricity led the way for John and Wilma Brantner to open 'Ye Old Feshing Hole', first a bait and tackle shop, eventually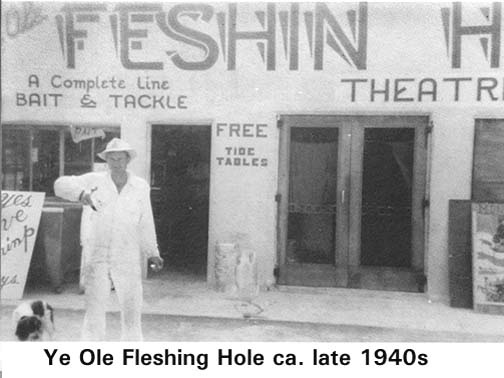 a theater and a meeting place for the Catholic Church. The Brantler's would leave cans of gas outside when closed using the honor system for payment. Marathon also had a Coast Guard recruit (boot) camp and a sizable Navy repair yard on Hog Key.

Ostensibly as a training facility, the Army Air Corps built a 5,008 foot long airstrip during World War-II. 280 acres were purchased from Norberg Thompson and Maitland Adams and Belcher Oil Company of Miami constructed the facility. As the property was very low, fill from excavated creating today's Dodge Lake beginning in 1942. The extremely long runway indicates that the "training" involved aircraft up to and included heavy bombers. This is a natural conclusion since aircraft crew training involves many practice take-off and landings away from populated area and crowded operational airfields. No maintenance or support facilities were built, but most believe it was for more than an emergency/alternate landing strip. Some believe it had a secret mission, others say they did not want large bomb loads taking off from Key West.

The construction of the airfield brought another early family to Marathon. Thelma and Byron (Parky) Parkhurst had been following construction work on government war contracts in Florida and moved to Marathon in 1943 as a truck driver for the airfield contractor. When the job was over, Parky bought the truck for use in local jobs. He soon found work as manager of the Overseas Lodge. In 1945, he purchased a 38-foot Mathews boat and converted it (The

Bon-Ami

) for off-shore fishing. Thelma worked as his mate and in 1948 became one of the few female boat 'captains' in Florida.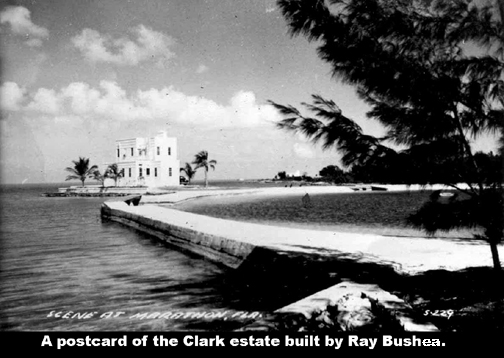 It was time for Marathon to have an estate, or mansion, which ever word you prefer. Masonary construction was used in the Keys before the later 'big hurricanes.' Two large concrete houses were built on Key Largo in the 1920s and another one on today's Fiesta Key for L.E. Goetz. At Marathon, Harold Clark had developed the Sombrero Hotel in the 1930s, which was later rebuilt as the Buccaneer Resort. In the 1940s, Ray Bushea built Mr. Clark a very large masonary house on Florida Bay as shown on a postcard at the right. Harold Clark was from Chicago and was the inventor of the oil seal.
-
-
-
-
After the war was over, local business individuals and groups sought to make use of this obvious community asset. The first commercial airlines to offer scheduled air service was National Airlines in 1958.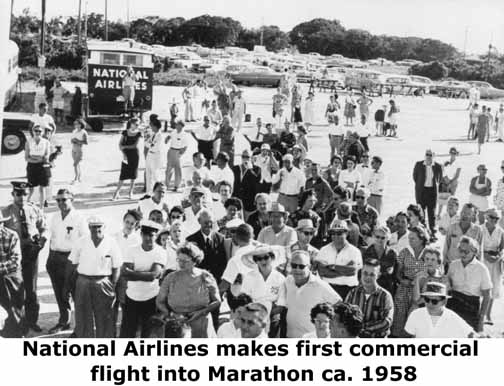 A lighting system, rotating beacon and hard surfaced overlay were added in the 1960s. A parallel taxi strip was added in the 1970s. The facility has been completely modernized and is operated by the City of Marathon and Monroe County who after much effort hope have a successful scheduled air service.

Like the rest of the Florida Keys, Marathon realized changes after World War II. There are too many to list, but I believe the arrival of Francis and Mary Crane deserves listing. The story should be well known. Simply, they purchased the Norberg Thompson, Maitland Adams and George Adderly land tracts. All in the 1950s, they built a house, a museum, gave land for a church, developed a sub-division. What remains today are Crane Point and Crane Hammock as testimony to early minimal environmental impact development.

In the absence of city directories, telephone books give a glimpse of a community. In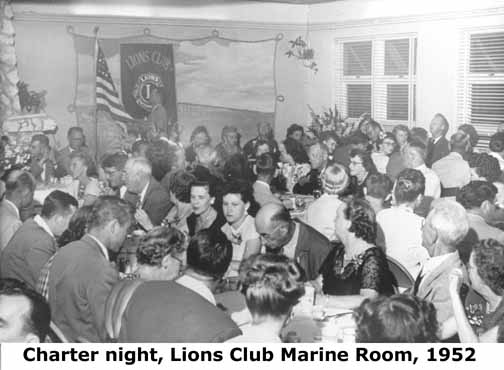 the November 8, 1951 edition there are three exchanges: Marathon, Matecumbe and Key Largo. Marathon has two pages with 149 entries including residential, business, the telephone company, Road and Toll District, Highway Patrol and US government. All are four digit numbers. In 1961 there are 10 pages all with the 743 prefix.
Although all the Keys participated in the 1950 "dredge and fill" mode, the author believes that Marathon led the the way. The Chamber of Commerce under J. J. Hall, president; Fred Center, vice-president; and board members William Parrish, Sr., Deane Brigham, Lewis Gray, George Goodson and E. G. Stempel plus about 200 members provided guidance.
One of the 50s structures that remains began as the Davis Docks project or the Marathon Motel and Docks. Floyd W. Davis had owned the property where Miami International Airport was built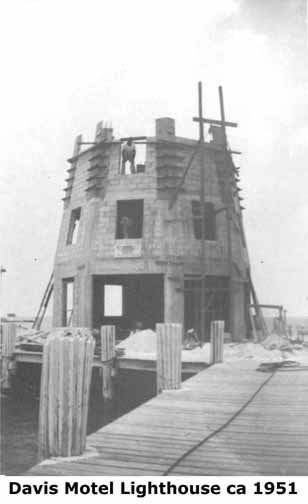 and established himself as Miami builder with projects in Liberty City area. For his Marathon project he employed Tampa contractors Archie and Ollie Rackley to construct a lighthouse designed by Les Barett for the project's landmark structure. The exact date of opening is not known, but from advertisements it was in full operation in 1957. Then came Hurricane Donna and in 1967 Boca Grande residents Diane and Michael van Beuren completely renovated the Hurricane Donna damaged Davis project and renamed it Faro Blanco. Faro as an English name for lighthouses evolved from the 200s B.C. lighthouse Pharos of Alexandria.
Another structure was the Marathon Theater, Marathon Self Storage. The theater had seating for 450 customers, quite an ambitious project for the time. I opened for the showing of the "Battle Circus" on July 19, 1953 starring Humphrey Bogart and June Allyson.
-
-
-
In the 1950s, Phillip Sadowski and John Puto probably double-handedly had made the largest change by developing Marathon Shores and Little Venice areas. Their 125-unit air-conditioned Key Hotel changed ownership frequently. First the Jack Tar Motel, then the Salty Dog Motel, the Driftwood Inn, etc.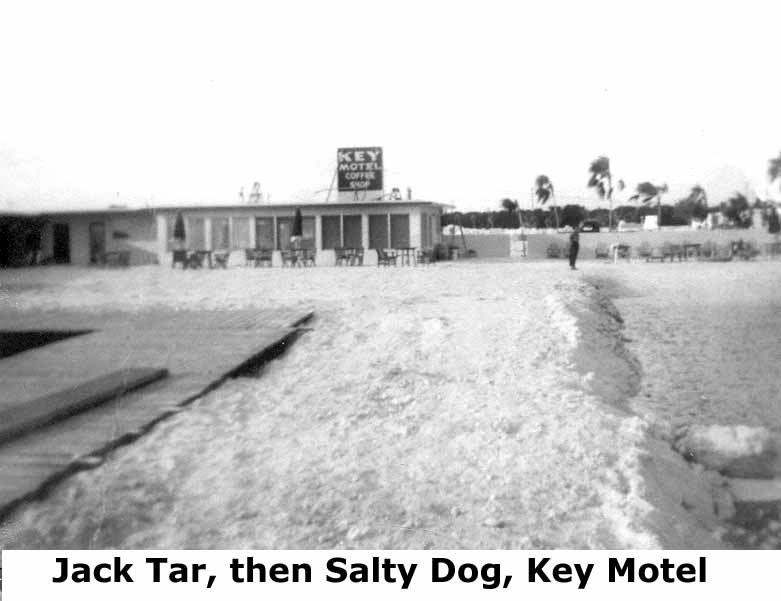 Almost at the same time, Shelter Key was developed into Key Colony Beach. Shelter Key was about 90 acres of mangrove in 1953 when Sadowski converted it to a 285 acre buildable island . With about 20 homes, the City of Key Colony incorporated in 1957, built a convention center (now the city hall) and has governed itself throughout these bureaucratic times.
-
-
-
-
-
-
-
-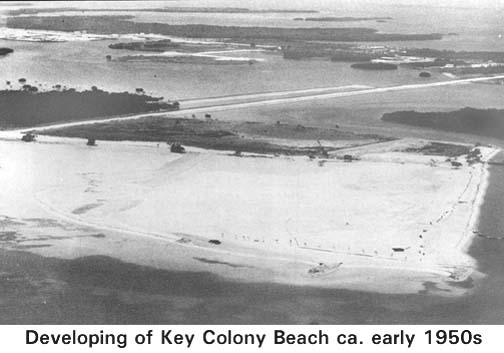 In April 1951 incorporation attempts began (It failed in 1955.) and its first newspaper, The Marathon Times by Fred Sheflin appeared. Then in 1952 Marathon gained a full time attorney, Ralph Cunningham. The year 1953 brought a full time dentist (Dr. Fennel), a medical doctor (Dr. Eisenbarth) and the Florida Keys Keynoter newspaper (Edgar and Patricia Seney). Dial telephones replaced the old crank type. Then came a garden club, a bank, refuge service, a fire department and plans for a hospital (built in 1962). A number of churches were established. Brian Newkirk built his exclusive development on Duck Key with the Indies House as the center piece. The Marathon renaissance was on the move and nothing could stop it.
It could be slowed though as on September 11, 1960, Marathon took the brunt of Hurricane Donna. Winds up to 166 miles per hour were reported. Parts of an article titled "Hurricane Briefs" reported by the Keynoter newspaper on Monday,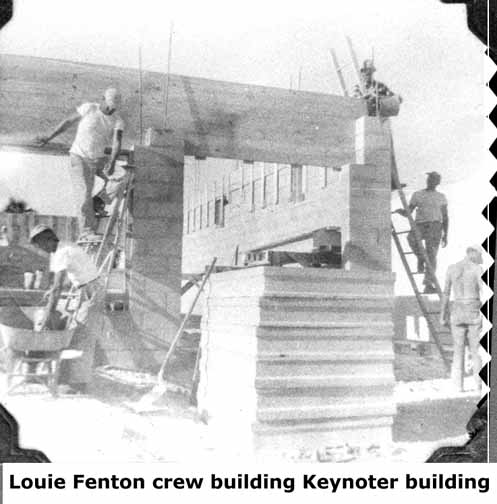 September 12, 1960 are: "A curfew has been established by the sheriff's department . . . . Soup kitchens have been set up at the fire department and American Legion hall, serving three meals daily. Water is available on a limited basis at the fire department. Calls to the outside world are being accepted by a ham radio setup. . . . Clothing for the family is being passed out by the Red Cross. . . . Looters are shot and questioned later. A limited amount of ice can be had at the fire department. . . . All persons -adults and children- should have typhoid shots. . . ."

In historical Keys tradition, Marathon rebuilt only to face the threat of another hurricane. Irma and Robert Stout were aware of the
threat when they opened Stout's Restaurant in 1964. And sure enough it was Hurricane Betsy in September 1965, but Marathon was spared massive destruction this time. Betsy was followed by Hurricane Inez in October of the next year, however only minimal damage was done. Newcomers began to worry with six hurricanes in six years.
-
-
-
-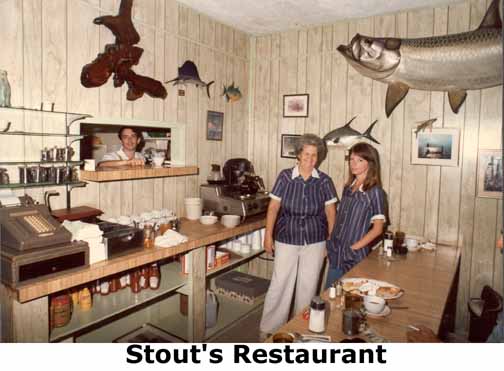 -
-
-
-
-
-
-
-


-
To view photos of some of the early dining places in Marathon, Click HERE and use the back arrow to return.

To view miscellaneous photos of early Marathon service organizations and businesses, Click HERE.

As in much of the Keys, the 1970s were the "dredge and fill" era. Marathon began the decade by again declining to incorporate by 517 against and 115 for. The state designation of the Florida Keys as an Area of Critical State Concern in 1974 supplied the reins to be pulled on to control development. Government agencies began impact studies and environmentalists moved in. Most know the story from there on. Evolution occurred as in most communities.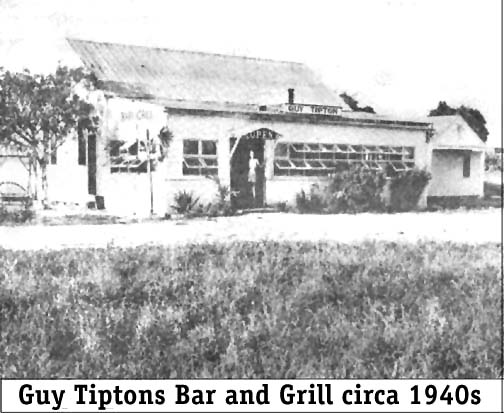 An example, with time Tiptons Bar and Grill changed to the Hurricane Lodge then to the Holiday Inn of Marathon.
The 1980s were a time of continued change for now not-so-small Marathon. Probably the significant event was the highway modernization. Construction of a new Seven Mile Bridge began in 1979 and opened May 24, 1982. The Vaca Cut Bridge was next opening for two-way traffic in March 1983. Controversy surrounded the four-laning 'in town'. It was done in five segments beginning in March 1985. The southwest portion was not done.
The impacts and results of growth came home to rest in the 1990s. There were many who followed the likes of the Pents, Moores, Singletons, Smiths, Snows and Parrishs. They ran the proverbial 'marathon' well and produced today's great Middle Keys community, which has just voted to incorporate. What will 2000 and beyond bring?
To go to or review miscellaneous photos of the Marathon area:
To view the older restaurants now,Click HERE.
To view miscellaneous photos of the fishing industry, Click HERE.
To view miscellaneous photos of Marathon service organizations, Click HERE.

-
-----End-----