The first medical practice in the Keys was aboriginal. We can surmise that the Indians used the Aloe vera plant and other medicinal plants found in the Keys. They may have used the leaves of Spanish stopper, gumbo limbo bark, jasmine and who knows what else to assist them in their illnesses. Anyway, it served them more years than modern medicine has served us; albeit, they did not live to be as old an age as we.
When the Europeans settled permanently in the Keys, each family had their favorite family member or friend as its nurse, doctor and surgeon, and each group had its preferred practitioner within the group. Most of the children were born in Key West and a few in Miami. For one reason, most Upper Keys families had more relatives living in Key West than Miami. The trip was first by sailboat until the railroad was completed in 1912. I have been told of emergency cases where the patient was taken to Key West by a railroad hand operated car. One person could pump the mechanism; but, for a trip of that distance, two people were preferred.
Small books have been written about folk medicine. The Aloe vera plant is one of the more popular. It is used for almost any dermatological injury, made into pastes for poultices and drank for a multitude of stomach, liver and kidney problems.
Whether medicinal or not, the Seminoles at the celebrated Green Corn Dance consumed the Black Drink. Each male would have two Black Drinks made from the yaupon holly tree.
Supposedly, the Conchs drank "Blue Water." They would go out past the reef into the Gulf Stream for water that was then mixed with lime juice for a physic. Also used was Galame´ Tea that was the bark peeled from a gumbo limbo tree and steeped to make a tea. The first run off in the sugar evaporation process of raw cane juice was sent to Key West in 5-gallon demijohns. It was drank and also rubbed on as a liniment and called "Ag´a dent." To prevent infections of a skin wound, dampened plug tobacco was applied.
The first hospitals in the Keys were of course in Key West and they were military operated units. I know of no other outside of Key West until the 1960s.
Care for "fever" patients in Monroe County (1823) immediately necessitated some form of an enclosed medical facility. Commodore David Porter created Key West's first hospital. From the ship's log of the

H.M.S. Bustard

in April 1823 ". . . Sundry medicines and preserved meals from the American Naval Hospital."
To help the U. S. Merchant Marine sailors the U.S. Marine Hospital was built on Emma Street in 1844. An example of the treatment of the yellow fever during the Civil War from The Journal of Practice signed by surgeon's steward, J. W. Plummer of the

U.S.S. Honduras

was as follows: "Samuel D. Holt, acting third engineer, age 27 was ushered on August 8, 1863 into the hospital. Fever started with a chill and colic. Week previous given dosages of compounded spirits of ether and whiskey. Ensuing day, fever strong and marked intense pains in the head. Gave calomel and rhubarb 15 grains each. Cold to head. Treatment afterwards consisted of acid drinks, liquid potasse citrate, and occasionally one ounce of castor oil. Thirty drops of laudanum and six drops of oil of turpentine to check bilious discharge."
Even though the hospital was opened to serve the Merchant Marine, in practice it served many. It first big task came with the Civil War when it also served the U.S. Navy. The Spanish American War put it into overload conditions once again. Eventually it was staffed with U.S. Public Health Service personnel and many were served. The Army eventually put in a hospital.

After the turn of the century private hospitals were formed, Dr. John B Maloney opening one in 1908. In Key West, others followed such as the Mercedes Hospital on Division Street and the Mayor of Key West, Dr. Joseph Fogarty ran the Beneficencia Cubana in 1911.

The Marine Hospital closed in February 1943, the Monroe County General Hospital opened in 1944 on Stock Island, followed by Dr. De Poo's new hospital in 1958 which was replaced by the Florida Keys Memorial Hospital in 1971.
In the Upper Keys Dr. Henry Perrine is a noted example of an early medical doctor from 1838 to his death in 1840 at Indian Key. Indian Key and Tea Table Key served as military hospitals during the Seminole Wars. In 1875, Indian Key served as kind of a reverse hospital. There was so much yellow fever in Key West that a selection of healthy artillery troops were dispatched to Indian Key to assure a cadre of fit troops. The encampment was called Camp Bell. Except possibly for the above 1875 period, Key West has had sufficient medical services ever since. The Marine Hospital closed in 1943. The Indian Key Naval Hospital was commissioned in 1942 and a general hospital (civilian) in 1944.
Dr. Joseph Yates (1847-1927) of Key West was Florida's first public health officer on February 20, 1889 and Dr. James B. Parramore was Monroe County's first Health Unit director July 1, 1936
In the early 1900s, Henry Flagler maintained a well equipped F.E.C. Railway hospital at Miami overseen by Dr. James Jackson, the namesake of Jackson Memorial Hospital at Miami. Keys railroad workers were sent there when seriously ill. Free medical stations were available at each work camp, as medical assistance was one of the benefits of his railroad employment program. From Mrs. William J. Krome's photo collection, there is a photo labeled "#269-Hospital Tent, Camp 4, April 12, 1906" (page 304). This would have been somewhere in the Upper Keys. I guess one could say that this was our first hospital. Doc E. R. Lowe of Tavernier came to the Keys as a railroad medic and served as a medic in WW-I.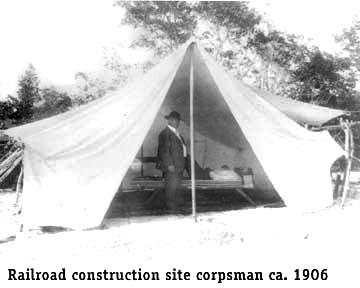 Dr. James Archer Smith set up his practice in Homestead after leaving the Army Medical Corps in 1919. Dr. John Tower was actually the first doctor in Homestead, in 1910; however, he was recovering from tuberculosis for some time. With the railroad in operation, Upper Keys residents now had the choice of Key West or Homestead for medical service. Many chose Key West, presumably because they had family there.
Two of the first trained Upper Keys medical practitioners were two nurses who had been advised to move south by their doctor up north. Somehow, nurses Mac and Bea chose the Tavernier Creek area on lower Key Largo in 1929.
The late Captain Cliff Carpenter of Tavernier related to me how these two ladies constructed a rock peninsular and a small dwelling on the oceanside of U.S. 1 on Tavernier Creek. They arrived with a 1928 Dodge sedan in which they slept at night and removed the back seat to haul rocks by day. After building up a spot high enough to keep the tides out, they made a house that also served as a bait house. They caught shrimp at night to sell during the day. As previously stated, there were no doctors, except in Homestead and Key West. One could either drive to Homestead or take the train to Key West. This was satisfactory if time permitted the trip. If not, Bea and/or Mac took care of all medical emergencies. Their last names are lost in time.
The first hospital in the Upper Keys, in fact other than in Key West, was on Windley Key; albeit, not open to the public. After the 1931/2 Bonus Army event in Washington D.C. and President Roosevelt was elected about 700 WW-1 veterans were shipped to the Upper Keys to build a highway to replace the existing ferryboats under the control of the Florida ER Administration. For additional reading Click here.. They were stationed in three camps: Camp 1 on Windley Key and Camps 3 and 5 on Lower Matecumbe Key. The headquarters was on Upper Matecumbe Key. For medical support a wooden hotel at Snake Creek was converted to a hospital. According to the April 20, 1935 Key Veteran News, "The upstairs of the hospital is laid out in. four suites of two connecting rooms each and two single rooms" Dr. W.R. Keating was in charge, assisted by Drs. Main and Alexander. There were two trained nurses and two ambulances. It was totally destroyed by the 1935 Hurricane and Dr. Main died. For the 1935 Hurricane Click here. That link has a sworn statement made by Dr. Lassiter Alexander.
Frances Tracy and her husband, Captain Roy Tracy, retired to Tavernier in 1937. They had been Florida residents since 1916 and Captain Roy operated a marine repair facility on the Miami River. As an active nurse in Miami, Frances and her husband had been visiting the Keys for years, even by railroad, but now the move was permanent in 1937 Mrs. Tracy had been trained as a registered nurse at John Hopkins and had served as a volunteer nurse during the Spanish American War. She became known – still is - affectionately as the "Angel of the Keys." It is said that she devised many "home remedies," as there were no pharmacies available locally.
In the Rock Harbor area, Mrs. George Brown (wife of the postmaster) was also a nurse. She attended to those who needed emergency assistance in that area during the 1940s. In the 40s, Rock Harbor was all of Key Largo north of Tavernier. These were unincorporated communities and consequentially had no specific boundaries.
From 1941 to 1945, Dr. Tallman came down from Miami to his weekend home in Fontaine Lake Estates (Plantation Key) and operated a small medical clinic on Plantation Key. He would also either write or bring prescription drugs that nurses Tracy or Brown would telephone to him during the week. Dr. Mayer also had an office for a short time on Plantation Key. Therefore, in addition to weekend medical service, the Upper Keys had a doctor who could write prescriptions.
The end of World War II signal time for change. In addition to public potable water, electricity and an improved and shorter Overseas Highway, the boom of travel brought about by a number of society changes made the Keys a more desirable destination - both permanent and temporary.
In much the same way as the need for a high school was recognized, the need for reliable and full time medical service was also. To meet this need a Florida Keys Clinic Board was organized in 1951 by Harry Harris, Carolyn Cohen, Lottie Uhe, Thelma Cooper, and of course Frances Tracy.
Dr. Cohn was the house surgeon in Victoria Hospital in Miami. His wife, Dorothy was a registered nurse. He had been considering moving to Madiera Beach, Florida to practice privately but visited the Upper Keys from time to time to fish.
Through the efforts of the Florida Keys Clinic Board, on March 26, 1953, Dr. Harvey Cohn left his surgeon's position at Victoria Hospital and "came to the Keys for three months." The volunteer Florida Keys Clinic Board went into overdrive and the three months became a permanent move. Alas, a resident doctor for the Upper Keys.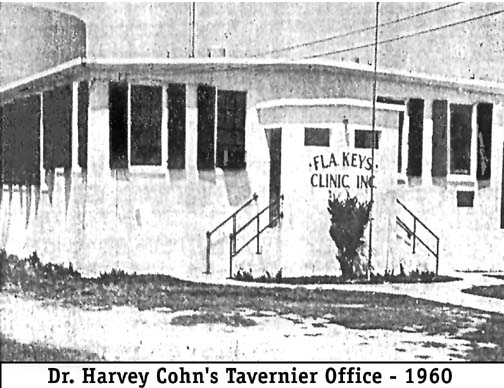 His clinic was an object to behold, considering he was a Miami surgeon. He had two cramped rooms in the Tavernier concrete hurricane refuge school building built by the WPA in 1938. The building now vacant but was the Monroe County Health Department. "Prof" Albury had just moved the school from the two rooms in that building to the new Coral Shores School building in 1951.
At first, Dr. Cohn was the doctor, nurse, receptionist, janitor and everything else that the job demanded. His female appointments were scheduled for Mondays and Tuesdays in order that Dorothy could come down from Miami and assist. As things settled down from "management by crisis," he hired Yvonne (Parker) Broomfield to run the office.
The Florida Keys Clinic, which at times had 300 citizen memberships, remained active to raise funds and support the clinic. In 1955 Dr. F. P. Archer, a Homestead optometrist announced he would keep office hours at the clinic. The Florida Keys Clinic disbanded on January 21, 1964 and its funds distributed to the Tavernier and Islamorada Ambulance Corps.
In 1959, Dr. Cohn moved his practice to Plantation Key and formed the Venetian Shores Medical Center, which is now the location of Cobra Marine. A short time later, Hurricane Donna paid Middle and Upper Keys a very expensive visit by causing considerable damage. Nurse Mabel (Dunc) O'Neil had joined Dr. Cohn just in time to assist in this disaster and remained with him for 19 years. Using what was left after the hurricane, they gave some 3,000 tetanus and typhoid shots. They were also flown by the Coast Guard to attend to emergencies.
Stepping back in time, the first Upper Keys pharmacist was Doc Moody in the McKenzie's Drug Store in Tavernier. Richard Avery was attending the U. of Michigan Dental School at Big Rapids when WW-II broke out and he joined the the Army Airborne. After the war Richard completed his dental training, came down from Michigan, via Miami and opened a pharmacy in Islamorada next to Whitey Martins Half-Way resort (now Woody's but Richard's building later burned). In the meantime, Dr. Cohn was having problems keeping full time pharmacists in Tavernier and persuaded Richard to take over the pharmacy in Mr. McKenzie's drug store in Tavernier. When Dr. Cohn moved from Tavernier to the Snake Creek area on PLantation Key, Richard followed opening a pharmacy almost next door. A year after Dr. Cohn retired (1979) Richard moved his pharmacy back to Islamorada in a building south of today's Bentley's Restaurant for seven years and retired in 1987.
Also, in the 1950s, Upper Keys ambulances were provided and maintained by Turner Funeral Home of Homestead. Ed Branam bought out Turner and continued his support of an ambulance and the local Volunteer Ambulance Corps provided drivers and attendants. Jack Watson was the first driver. On November 4, 1961, Ed donated a new ambulance to the Tavernier Volunteer Corps. Islamorada and Key Largo organized similar services. In 1961, Monroe County began supplying equipment and Ed Branam Day (November 4) was declared for his community service.
While in Tavernier, Dr. Jerry Halker of Homestead provided part time dental service alongside of Dr. Cohn. The first full time Upper Keys dentist was Dr. Clive Futch. In October 1960, Dr. Futch set up practice in the old school building in Tavernier that Dr. Cohn had vacated when he moved to Venetian Shores. Dr. Futch had previously retired and only stayed a few years. Dr. Gunerson, of Homestead, opened a dental office next door to Dr. Cohn on January 5, 1961. In 1965, dentists Toupin and Spencer assumed his office space. Dr. Cohn was in the middle office, Dr. Toupin was on the right and Doc Avery had his pharmacy on the left. Dr. Toupin was later joined by DDS. Scott, Molinari, Lumb and Izanec.
In the early day, veterinary service was provided by Dr. Cohn until Dr. DeMille of Homestead began making scheduled trips to the Keys. Homestead then obtained the services of Dr. Perry Boyd and Dr. Alex Pellini opened a clinic in Marathon. The first full time veterinary clinic in the Upper Keys was opened by Dr. Clyde Chandler in 1971, located at about mile marker 97 in Rock Harbor. In 1973, Drs. Bob Foley and George Baker opened a Plantation Key veterinary clinic, followed in 1974 by Dr. Price in Key Largo.
Again back in time to 1962, the first Upper Keys hospital-type medical center was incorporated by Dr. Levin (who owned the land), a Dr. Hudson and John E. Hunt Sr., a Miami insurance broker. Dr. Nathaniel Kevin, M.D. an ears, nose and throat specialist served in the Navy in WW-II and was familiar with the Keys. In addition, he owned a house and additional property on Plantation Key. Realizing the need plus the opportunity and the support of his wife, Sylvia, Dr. Levin contracted with Alonzo Cothron to build a 5,000 square foot hospital building with two operating rooms equipped with X-ray equipment. The year was 1962 and the name was the Overseas Medical Center. Dr. Levin had a full time practice in Miami and enlisted services from many specialists both still practicing and retired. Names mentioned are Dr. White, Dr. Pippin, Dr. Reiss, etc. Early nurses were RN's Donna Sprundt, Sherill Cottrell and Charlen Regan. Rose Wrenn was the secretary and Louise McQuiston was the pharmacist.
A hospital requires at least one full time medical associate. It appears that was Dr. Stanford S. Setnor, who was given one-fifth interest for the actual management of the nine-bed hospital. His wife Suzanne was his nurse. Within three years, Dr. Setnor acquired full ownership, and the name was changed to the Keys Community Hospital. The hospital was expanded to 13 beds. It is said that Dr. Setnor, a skilled surgeon (but somewhat aloof) defended his little hospital by commenting, "It is not the size of the kitchen, but the talent of the cook." Dr. Setnor began operations with Drs. Robert Hite and Aaron Shifron. Later, Drs. Norman Tylar, Robert Whittier and Paul Fitzpatrick signed on as staff physicians.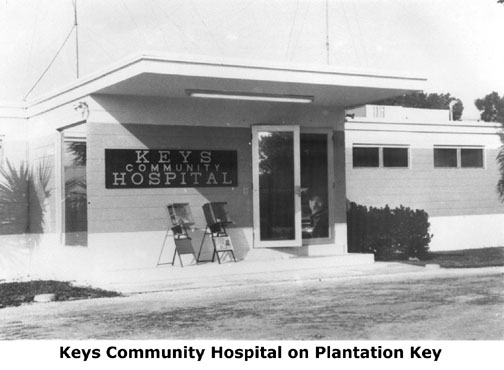 Our neighbor in the Middle Keys, Marathon, obtained its first permanent physician, Dr. Elmer Eisenbarth, in December 1953. Dr. Eisenbarth had been coming to Marathon since 1951. The same year Dr. Alvah Fennel set up a dental practice. Dr. Lloyd Damsey, radiologist and surgeon, established a two-bed clinic in 1957. Fishermen's Hospital opened its doors to a 36-bed hospital in Marathon on September 12, 1962. Tommy Shoen was admitted as its first patient thirty minutes later. Believe it or not, it was the first Monroe County hospital to receive full accreditation by the Joint Commission on Hospital Accreditation. It was expanded to 74 beds in March 1972.
In the meantime back in the Upper Keys, the organizing of the Keys Community Hospital Auxiliary started in September 1966. It was accepted as a member of the Florida Association of Hospital Auxiliaries on January 15, 1967. As with any auxiliary, many deserve mention, but space is limited to name all. Anyway, Mrs. Janet Sabin was president and Mrs. Nora Van Sweringen was the first pink lady. They voted not to have meetings, but to devote the time to hospital services.
Through the years, Dr. Setnor had his share of detractors. It appeared that the criticisms began to outweigh the compliments. He was the owner, chief of staff, administrator and surgeon. It was suggested that he needed an assistant so in 1968, Dr. Setnor hired Robert E. Lee as the hospital administrator. The problem was that in name it was a community hospital, but in practice and actuality it was a private business. Some locals referred to the Overseas Hospital as the "overcharge hospital." A 1970 issue of the Upper Keys Reporter carried a photo of a paper sign taped to the front door glass giving "Emergency Room, Hours 9 to 5 PM" with a huge question mark with the "Community Hospital" portion of the sign showing..
A hospital foundation board was formed with Dr. Frederick Bond as president. A purchase price of $280,000 was presented to Dr. Setnor, but refused. In 1969, the Upper Keys voters on their November ballot decided to create an Upper Keys Hospital Tax District to buy the hospital from Dr. Setnor. It was a heated contest, but the issue was defeated by the voters. The following year the hospital curtailed the emergency room to weekdays 9 a.m. to 5 p.m.
In passing, Dr. Frederick Bond was chairman of the Upper Keys Red Cross Advisory Board when it began in the Davis building on Plantation Key in the early 1970s. Jo Small was the first branch manager and Dr. Cohn was the volunteer physician. Dr. Bond donated the property at MM 94 in 1972, a building fund started and the Upper Keys Chapter of the Red Cross was chartered by President Ford in 1975.
The stories are many, however in April 1971 Dr. Setnor sold the hospital to American Medical Affiliated (AMA but not to be confused with the American Medical Association), which was a Jenkintown, Pennsylvania nursing home and hospital holding company. AMA pumped in a $1 million expansion program that promised 24-hour emergency room service regardless of ability to pay. The hospital was finished long before the 24-hour emergency room service was provided. With the help of another new arrival, Dr. Halvor Franco, the emergency room was re-opened in 1975. Dr. Franco retired in 1992.
In July 1979 Dr. Harvey Cohn and his second wife, Grace, packed their bags and moved to Homestead – close enough to stay in contact, but far enough to take a breather. In the 26 years he was not recognized as a Conch. In May 1981 an Honorary Conch certificate obtained through an effort spearheaded by Kay Wilkinson was presented to him at the Redlands Country Club.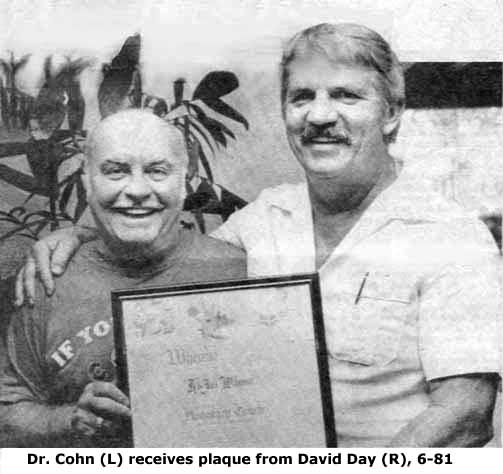 Also in 1979, the Keys Hospital Foundation, Inc., a private not-for-profit Florida corporation, formulated a plan to purchase the hospital for the community, but there were hurdles to overcome, mainly money. Confident of success, and with Ken Sorensen (the present state representative) as chairman, a name-your-hospital contest form was published in January 1980 along with a square to check if one was willing to pledge $750.
With a lot of work from many people, the issuance of $2.7 million in tax free revenue bonds were sold. Only a state municipality can issue bonds so the City of Layton acted as the sponsor for the revenue bonds. The sale of the hospital was effective June 10, 1980 at 12:01 a.m. as a community owned, not for profit hospital, managed by Southern Health Systems who report to and are guided by the Keys Hospital Foundation. Lyle Petty of Key Largo received his check for $500 for submitting the winning name, "Mariners Hospital."
In the 1980s it was increasingly difficult for a local Keys hospital to find a hopital on the mainland to transfer a patient for servces not available here - especially 'trauma' service. A taxing referendum was passed by all five MoCo districts. Only the Upper Keys (Long Key northwards) implemented special tax plan managed by what is locally known as 'The Truama Board." It was effective January 27, 1988 with a tax rate of 0.5 mills - see MoCo ordinance No. 008 - 1988.
The Upper Keys Taxing District made a contract with Jackson Hospital, later the Ryder Trauma Center, to be the 'Payer of Last Resort' at Medicaid rates for any human requiring trauma medical service. With the growth of the Upper Key and good management, a financial surplus accrued and the collection of taxes were ceased until needed again - still zero as of 2010.
And that is how it all started.