If you are not familiar with the general location of Tavernier, click HERE, then 'BACK' for a basic location map.

With the advent of the railroad, the southern end of the island of Key Largo, composed then of the small communities of Planter and Lowesport, became known as "Tavernier." The name Tavernier is intriguing. Why this French name among all the Spanish names? Most charts before 1775 labeled Tavernier Key in Spanish as Cayo Tabona, Tobanas, Tabano, Tavona, Tabanoe, etc. which translates to "Horsefly," or "Gadsfly" in English. Spanish letters relating to the recovery of the 1733 wrecks relate that they had to relocate their land camp from Cayo Tavona because of the horse flies.

David Cutler Braddock did label it "Tabernero" on his chart of 1756. William de Brahm showed it as Stephen Island on his 1772 chart. George Gauld made a map for the British Admiralty in 1775 and labeled it Cayo Tabona and Kay Tavernier. It was the only Key to which he gave two names. Gauld stated in his survey notes: "KAY TAVERNIER (or Cayo Tabano as it is called by the Spaniards) is a small island about 2 miles from the Southwest of Cayo Largo, and 5 leagues N.E. from Old Matecumbe." Therefore, the place named Tavernier has been in print since 1775. A journal written aboard the ship Gallant captained by Eldridge Spicer reads ". . . went into the harbor of key Tabinier caught this day 87 fish. . . ."

Additional research of the name Tavernier reveals in Europe a famous French traveler and jewel trader named Jean Baptiste Tavernier (1605-1689) and a noted French cartographer Melchoir Tavernier in 1634. I have spoken with the French cultural attache and consul general in Miami and they advised me that the word Tavernier, which means tavern keeper, is the fourth or fifth most common name in France. They believe, if anything, it was another person or relative named Tavernier, or the island was named in honor of the very famous Jean Baptiste Tavernier. Love Dean wrote in May 1983, "Decades of mispronunciation changed 'Tabona' into 'Tavernier.'"

An Elixio de la Puente chart labeled present-day Tavernier Creek as "Boca de Guerrero", another 1773 chart "Boca de Herrera" and an 1860 U.S. Coastal Survey map has it Tavernier Creek. Only a few of the older maps include the names of creeks. The Islamorada library has a good collection of old charts and maps.

Darlene Brown of the Miami Herald wrote in her article, Planter: A Village Founded and Destroyed by Sea's Fury: "The famous pirate Jean Lafitte supposedly rested on Tavernier Key." Lafitte (1780-1826) was supposedly born in Bordeaux, France. Though his notoriety has a New Orleans setting, he, in all likelihood, sailed by the Keys to get to and from New Orleans. The problem with this theory is that LaFitte was born in 1780. This was five years after George Gault first charted the name of Tavernier on his charts.

Nevertheless, an 1849 U.S. Coast & Geodetic Survey chart made by F. H. Gerdes noted, ". . . that the bayou between Cayo Largo and Plantation Id. [sic] is named Tavernier Creek. . . ." Another maritime surveyor, A. D. Bache, used the name Tavernier for both the island and the creek on his U.S. Coast survey of 1860. Earlier maps had shown Tavernier Creek named as either Guerrero or Herrera Creek.

Dr. J. B. Holder wrote a series of articles for the Harper's New Monthly Magazine beginning in February, 1871 on his voyages in the 1860s and titled "Along the Florida Reef" on page 358: "Tavernier Creek is another of these open waterways, quite like a river-open runs produced by the tides." With this reference, it is safe to assume that the name Tavernier in the Keys was firmly established and used throughout the nation in the 1860s.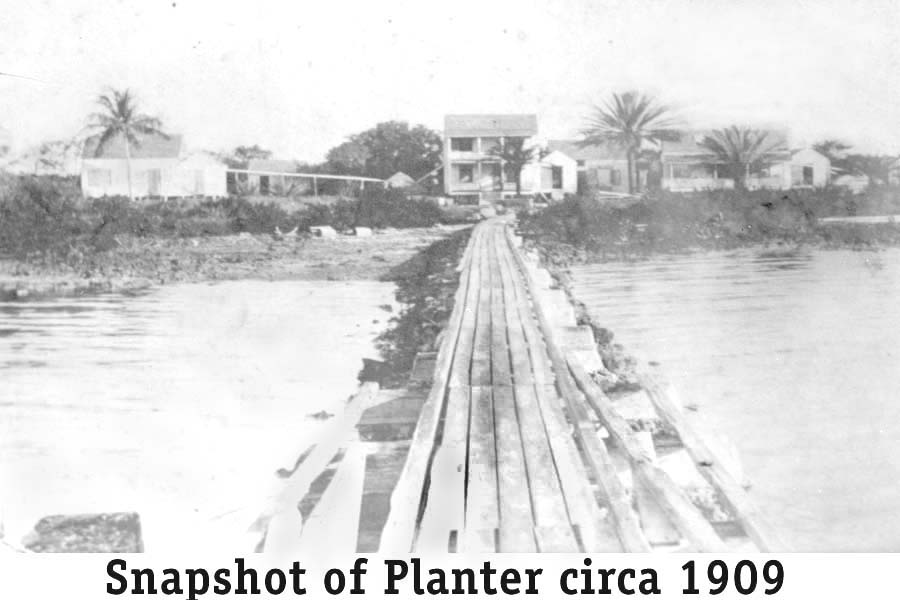 Moving to the twentieth century, the April 1905 blueline location sheets for the construction of the Florida East Coast Railway Extension "Approved by J. Meredith, Constructing Engineer," shows Tavernier Creek with the Planter community's Post Office to its north. Tavernier appeared on the F.E.C. Railway timetables in 1908. The Planter post office was discontinued in 1910 and the Tavernier post office opened on March 9, 1911. It was that era when the community of Tavernier was given its official name, probably by a combination of the railroad and post office, located near Tavernier Creek.
In early writings, the harbor between Tavernier Key and Key Largo is mentioned as a rendezvous area for Bahamian wreckers. It offered a haven from Atlantic gales and a good view of the Upper Keys reefs. In the early 1820s it is believed that slaves were gathered on Key Tavernier to be smuggled into the Bahamas by wreckers, but this has never been documented. It was used as a relay point for some escaped slaves enroute to the Bahamas. Tavernier was spelled Taviniere by the newspapers writing about the incident. Key West, Indian Key and Mystic, Connecticut fishing and wrecking fleets used it after 1821.
James Audubon passed through the Keys in 1832 and stayed at the Tropical Hotel on Indian Key. He visited twice, but it was too noisy for him to sleep. In one of his Three Floridian Episodes he wrote about a song mentioning Tavernier, sung by a German fiddler.