General History of Indian Key
By Jerry Wilkinson
(If used, please credit the web site)
-Prologue-

-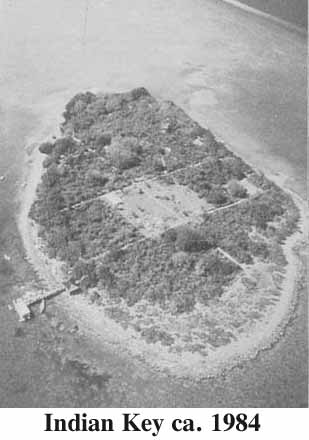 Indian Key is critical to the history of the Upper Keys. It was the Upper Keys first settlement, became the first county seat for Dade County, was the site of one of the better known Indian massacres of the Indian Wars, served various transitory functions, fell into relative obscurity after the turn of the century and now is a Florida State Park.
However, I offer this disclaimer: Its history is also littered with contradictions and unsubstantiated tales passed down through time. The contradictions will eventually be reconciled, but the fairy tales are totally unnecessary as the Islamorada Library has sufficient written documentation and is gathering more each year.
In view of this, there is still probably more not known about Indian Key than is known. Space will only permit a summary of happenings. To read quickly, skip pass the many additional reading links provided throughout the pages. Some links are short, others are long. All provided additional insight into either the person, the event, or both and if superfluous to your goals, you can quickly return by using the "back arrow," which is generally located in the upper right of your screen.
There are separate biographies and letters, and there is a detailed look at the massacre, etc. which you will visit should you choose the "tour" or you may select individually from the bottom of the home page index. Before we begin, should you have no idea where Indian Key is located in the Upper Florida Keys
please click here and then use the BACK arrow to return to this spot.
This was an example of an supplementary link. It, and others, will only be worth the time depending on your goals, available of time and previous knowledge.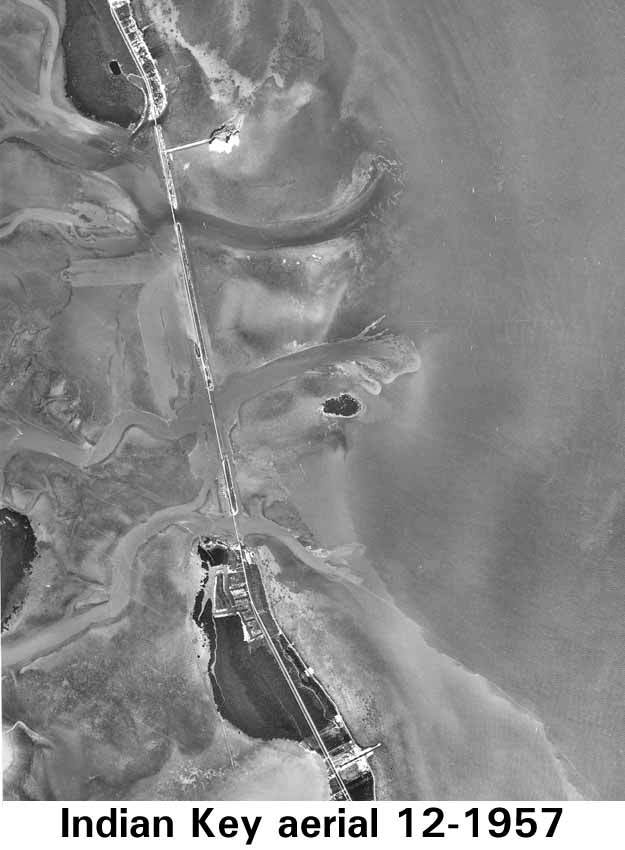 To the right is an aerial photo taken in December 1958 of the tiny island of Indian Key. It is the black speck almost at the center of the photo. The bottom of Upper Matecumbe Key is at he top-left and the top of Lower Matecumbe Key is at the bottom-center. A portion of Lignumvitae Key can be seen at the center-lower left. A filled section of highway US-1, known as "Indian Key Fill" connects Upper and Lower Matecumbe Keys. Tea Table Key is the tiny spot just below and to the right of Upper Matecumbe Key at the top-left. Note the channels of water connecting the Atlantic on the right to Florida Bay on the left. There are four bridges to allow water to flow back and forth. From top to bottom: Tea Table Relief Channel, Tea Table Channel, Indian Key Channel and Lignumvitae Channel. Before the railroad construction in 1905 the channel was open water with natural flowing channels between the Atlantic and Florida Bay. Click on photos to enlarge. For a close up orientation of the island please Click HERE.
With that said, Indian Key may be classified in many ways and for this presentation the author will subjectively use the following chronological periods: the pre-Columbian; the Spanish/Indian; the ships store (chandlery); the Housman; the Naval; the Carysfort Lighthouse depot; the Army outpost; the Civil War; the ship building, farming, depot for Alligator Lighthouse and yellow fever hospital; the F.E.C. Railway construction site; the fishing camp and finally the State Park period. Alternate perspectives would be applicable its political or economic history have been chosen.
Occasional historical archaeological surveys by Dr. Brent Weisman and graduate students of the University of South Florida are as time permits documenting artifacts from these periods. There are areas with deep strata layers which appear to be well enough preserved to establish the time aspect necessary in archaeology.

- Pre-Columbian Period –

In the Florida Keys, native humans are difficult trace in the prehistoric times. Before the polar ice caps began to melt and raise the sea level, one could have walked across Hawk Channel out to the reefs. This climatic warming did not begin over night, but was slow change. From averaging all the different dates that I have heard and read I put it about 30,000 years ago. The point is that if the early Paleo, or Archaic inhabitants lived along the ocean front, then the reefs, the archaeological remains would be underwater and destroyed by wave, tide and storm effects; therefore, lost or hidden from present investigations. Should you care to read about Keys Geology, please Click Here, and then the back arrow to return here.
In November 2002, Mel Fisher under-water archaeologists found an decayed underwater forest near the site of of the wrecked Henrietta Maria slave ship about 35 miles off of Key West. The sea-bottom appeared to be a burned forest of prehistoric pine land. Radiocarbon cones and wood were dated as 8,400 years old. Albeit no human remains were found, it does indicate that a habitat was available had humans desired to live there. Sites are found on the mainland dating back to this period, but none in the Keys. Most of the Keys sites found and excavated dates average only from 600 to 1000 B.C.

- Native American Indian Period –

During the Glades Period, the Calusa and Tequesta Indians assuredly frequented Indian Key. The Arawak and Caribe of the Bahamas, and the Guanahatabete, Ciboney and Taino of Cuba, as well as tribes from other nearby land areas could have visited also.
It is assumed that the fresh water wells of Lower Matecumbe existed in this period. Whether the early natives had adequate boats and facilities to transport sufficient fresh water to Indian Key for prolonged camping expeditions on Indian Key is debatable. There is scant documentation of Native American settlers, but some does exist. Without doubt Indians in one way or another used all these islands, but an easy accessible source of drinking water would have been necessary for a permanent settlement. In the writer's opinion the Native American's (whether of the Caribbean, Cuba, Mexico or the mainland) use of the island would have been nomadic or transient in nature because of hurricanes and no drinking water, if for no other reason. Sustained and permanent habitation by would have been difficult or simply not desirable without drinking water.
The Calusa and Tequesta tribes present in the South Florida region for all practical purposes died of natural reasons or of disease, killed by invading whites or northern Native Americans, or transported to Cuba by the English ownership (1763) of Florida.
The Matacumbe and the Yuchi Indians are documented as frequenting the Keys. Most speculate that the Matecumbes were a Calusa sub tribe. The Yuchi Tribe will, along with other Georgia, Alabama, and Carolina Indians in Florida, become known as the Seminoles.
Subsequent habitation by humans and hurricanes would have decimated any soil type kitchen middens, however occasional aboriginal artifacts have been found. Why are occasional artifacts found? There is relatively good documentation that large amounts of top soil were brought in during the Housman period to plant all sorts of fauna. The only local source of top soil, as opposed to leaf mold, in the Keys is the Native American kitchen middens, some of which were huge. This soil could have been the source of the artifacts.
What surprises the author is why there are not more Indian artifacts found; however, Yale archaeologist John Goggin in 1944 wrote "No sign of any site," meaning Indian midden or site. Other local archaeologists have found artifacts. The answer probably is that the two large hurricanes of 1844 and 1935, plus countless smaller magnitude hurricanes have washed them away as well as who knows how many category-5 hurricanes Indian Key has experienced in the past 1,000 years? The author's comments above is not history, only supposition, but the state site file designation is 8Mo15.

- Spanish Period (Historic Period - 1513 forward) -

The island's name does not seem to appear on very early charts. Spanish salvage operations of the shipwrecks of the Spanish Plate fleet in 1733 produced a comprehensive early map of the Keys. Indian Key was shown as "C. d. [Cayuelo de] Matanza" or Small Slaughter Key. Spanish "Cayo" is small island and Cayuelo is the diminutive. To see map, click here, then the BACK ARROW to return to this spot.
The Jack Haskins' translations of the 1733 Spanish salvage operations shows the ship Murgia at Cayuelo [Small Key] de Matanzas, less its cargo, and the ship San Pedro nearby with it's decks flooded. Click here to read of the 1733 Fleet wreck and return using the BACK ARROW
Therefore, in 1733 the Spanish used the name "Matanzas" for Indian Key. It would be a great help to know why Matanza was assigned. Neither of these two Spanish 1733 ships was totally wrecked. The Murgia was repaired, but the San Pedro was bilged, so it was salvaged. Without doubt salvage workers spent many months, even years, in the area using Matanzas and Lower Matecumbe for drinking water, work area and land camps. Their salvage operations are purely speculative; however, at the least they had to have been very intensive. As with the 1622 wreck of the Atocha, they probably used Native Americans for labor.
Spain had at least a year's worth of treasure from all its New World countries, some from as far away as the Philippines, laying in the shallow Keys waters. By the 1700s, the Crown financially relied heavily on the New World treasure. Spanish salvage operations of various magnitudes continued up and down the Upper and Middle Keys probably throughout the 1730s. (Modern salvage operations continue today.) The recovered contraband alone would pay for extensive salvage operations. Some of these early ships carried almost as much contraband aboard as manifested items. Heavy Spanish taxes had to be paid on manifested items.
Continuing with Indian Key maps, the 1742 Juan Liguera chart shows Indian Key as Cayuelo de las Matanzas (slaughters). The Father Alana chart of 1743 shows it as Cayo Frances (French). The DeBrahm chart in 1772 shows it as Matance (slaughter). Then in 1774, George Gauld quotes Captain Barton, a mid-1700s English sailor, referring to it as "Frenchman's Kay." Bernard Romans in 1774 named it Matanca on his 1774 chart. Then George Gauld on his chart published in 1775 gave both names, Matanzas and Indian Key, which he also did for Cayo Tabano and Kay Tavernier. Gauld also notes that the Bahamians interchangeably use Indian Key and Key Comfort as names for the Key. Therefore, the first specific use of "Indian Key" as its name that I have found is 1775. As with Tavernier, the Spanish names have disappeared with usage and time. U.S. surveyor F. H. Gerdes confirms the name when in 1849 he states "

Indian Key is

not

called Matanzas but instead Indian Key

."
Bernard Romans was the only one to extend himself into writing history. In the author's opinion it was Romans that stated the ". . . this key is called Matanca, i.e. Murder, from the catastrophe of a French crew said to have amounted to near three hundred men, who were unfortunate enough to fall into the hands of the Caloosas, which savages destroyed them to a man on this spot. . . ." in his Concise Natural History. Romans must have confused this Matanca (slaughter) with the well known and documented "Matanca" of about 300 French Huguenots which occurred near St. Augustine in 1565.
The country of France has no documentation of the "slaughter" incident in the Keys and Romans was accused of "borrowing" material by other contemporary writers. Regardless, the power of the press reigned and the story of the French slaughter remains associated with Indian Key.
There simply is no documentation a Spanish trading post was established on Indian Key in the 1700s as some say, unless it was the wrecking support area for the 1733 fleet recovery and that was not a trading post. Havana, Cuba was the Spanish trading post for this area. To read of Antonio Gomez, click here, then use BACK ARROW to return here
George Gauld also wrote of his voyage in 1773 "Of Watering Places on the Florida Kays" in which he wrote, ". . . But the principal watering place is at the north end of Old Matacumbe [Lower Matecumbe], where Five natural wells are found in the rock about 4 feet deep, and constantly full of excellent water. Matanca or Indian Key, already mentioned, is the leading mark to find the watering place on Matacumbe, it lies W.S.W. 2 miles from another small Kay called Boys Kay [Tea Table Key]. When you come for water, no matter from what quarter, you run boldly up, to within pistol shot of the north-east part of Boys Kay, and you will come at the entrance of a channel which leads up to the wells; this channel, as was said before, is only 9 to 10 feet deep; it is very narrow, and has a strong current. On account of the watering place and of plenty of fish and turtle, Matacumbe is frequented by the Wreckers and Turtlers." This account, sailing instructions and charts were published in London in 1796 and establishes the geographic area for all the future events. For a nautical chart Click HERE.
Anyway, Indian Key was not part of the two Spanish land grants in the Keys (Sr. Salas of Key West and Sr. Ferreira of the Key Vaccas); therefore, the island immediately became U.S. public property in 1821. Patented property deeds could not be issued until official state or municipal land surveying was done. For Indian Key this was in 1873. What was not known is that the federal government did not transfer ownership of the island to Florida ownership until 1909. This was at the urging of Henry Flagler. Yet from our county records in Books A, B and C we read that Indian Key settlers regularly exchanged recorded county land deeds back and forth before 1909.

- Territorial and Statehood Period -

When Florida became a U.S. Territory in 1821, a lot of old Spanish names fell into disuse. Many knew of the Roman's map and his story of the 300 Frenchmen. Slaughter would not have been an appropriate American name, but the Indian part could have been, besides there were still Indians in the area. The name Indian Key given by George Gauld in 1775 has dominated ever since. Later in this period the about 8.73 acre island was officially surveyed by Charles F. Smith in 1873. It is located in Lot 1 of Section 13, Township 62 South, Range 36, Monroe County and about 70 miles south of Miami.

- Ship's Store Period (1824 - 1831) -

Since the first federal census for Florida was not until 1830, we do not have a definite picture of Indian Key's original Caucasian inhabitants. With little doubt it was used for centuries as a stopping point to obtain fresh water from Lower Matecumbe - Indian Key itself had no fresh water. The following is a summary of settlers based on early Key West court records. Silas Fletcher settled on Indian Key in April 1824 to sell goods to mariners for Solomon Snyder and Joshua Appleby of Key Vaca. The operative word is "settled," thus he became the first documented white settler on Indian Key. Silas and later settlers used rain water collected from their roofs into water ciserns. Of course, fresh water could be transported from Lower Matecumbe Key.
Silas Fletcher had married Avis Phelps in 1795 in Louisiana and they were age 62 and 57 respectively. When on Indian key they decided to build a house and a store, for which, a Joseph Prince was hired as an assistant. Silas, his wife Avis, and two children, William H. and Abigail, used the house. Silas' daughter, Abigal, earlier had married William Talbert while in Louisiana, but later will marry Charles Howe on Indian Key in 1834.
Evidently, Silas and Prince formed a business partnership and purchased the holdings of Snyder and Appleby in January 1825. For reasons unknown, Joe Prince decided to leave a few months later (May) and, according to Silas Fletcher, Joe Prince sold to him his half of the partnership's business interests. Later, Silas purchased from Prince the building that housed the business.
Silas did not have a commercial monopoly for long, as Joe Prince returned in 1826 and opened a competing store. This indicated that there were sufficient people and business on Indian Key for two stores. Remember that all of this happened two years before Key West incorporated as a city in 1828 and some 65 years before Miami was incorporated in 1896. Silas Fletcher sold all his Indian Key property to Thomas Gibson for $2,500. This is reasonably substantiated by a Fletcher affidavit Click HERE. Silas became the Justice of the Peace in 1833. All of these property transactions are recorded in Monroe County Deed Books A, B and C in Key West. Property owners Prince, Gibson, Egan and Johnson are shown in the 1830 census. To see a list click here and then Back Arrow to return.
One of documented visitors to Indian Key was Dr. Benjamin B. Strobel of Charleston, South Carolina while enroute to Key West in 1829. He arrived at the small island and was quite surprised to be immediately invited to a ball that evening. To explore the area he rented a small sail boat which was not equipped with a centerboard and had difficulty controlling the vessel. Strobel wrote many articles about the Keys, some of Sanibel Island and the Key Biscayne area. He also published and wrote for the Key West Gazette newspaper. To read more of Dr. Strobel, please Click HERE.
The 1830 census taken in November 1829 is all of Monroe County combined; therefore, the exact population of Indian Key cannot be determined. At that time Monroe County was all of south Florida south of Lake Ockeechobee. An estimate is that the island's November population was probably around 50 people, mostly transient fishermen, turtlers and wreckers. Property owners Prince, Gibson, Eagan and Johnson are shown in the 1830 census.

- Housman Period (1831 - 1840) -

Enter John Jacob Housman of Key West, who was sold an existing Indian Key building by William Johnson in November 1830 and a store and a building by Thomas and Ann Gibson in July of 1831. Supposedly, Housman wished to break away from the control of those in power at Key West and this is the first documented land purchases for his independent empire.
The story of Jacob Housman's reign at Indian Key from 1830 to 1840, and its finale with the massacre, has been told and retold many times. This period is the primary focus of most short story writers. The following is a summary of the major events of that period.
Stories go that Housman took his father's boat, William Henry, without permission, sailed for the Indies, wrecked in the Florida Keys, saved by 'wreckers' and settled in Key West. I believe this and other lore was started by an author E.Z.C.J. in the Pensacola Gazette. Click Here to read.
Documentation show that Housman of Staten Island was first reported in the South by the Charleston Courier. As customary in the sailing days, it reported the "SAVANNAH, Nov. 28 . . . Schooner Florida, Johnson, 3 days from St. Augustine, in ballast. Sailed in company with schr. Wm. Henry, Houseman, bound on a wrecking voyage. . . ." Early newspapers used this short format to report arrivals and departures of ships. First given is the type of vessel, its name, its master/captain, its location and whether it had cargo or not. "In ballast" meant it had no cargo and was using ballast weight the ship down in place of the weight of cargo. The William Henry was not a cargo ship so it was not applicable.
Somehow this "wrecking voyage" took him near Key West where he wrecked and had to be rescued by 'Wreckers.' Having personally experienced an wrecking incidence some how led Housman to become a 'Wrecker.'
U.S. vessel registrations indicate that Jacob Housman was the sole owner of the William Henry from January 1825 to April 1827. In September 1827 he joined in partnership with Darius Parsons and his ship, Sarah Isabella, whom he bought out July 1828. In September 1828 he sold the Sarah Isabella to his father, Abraham, then later in 1831 bought it back. The next sale date is not in the records.
On January 24, 1825 Housman purchased the

William Henry

from William Barker. In September 1825, as a Key West based wrecker, Housman transported salvaged cochineal and logwood (no gold) with the William Henry taken from the French ship

Revenge

on Carysfort Reef to St. Augustine instead of Key West. At St. Augustine he found an official and a panel of five disinterested citizens as required by the 1823 wrecking act of which awarded him a 95 percent salvage award. The award was vigorously contested in superior court by the French Consul and the award was reduced to two-thirds of the cargo's sale value. This could have been the beginning of his falling into disfavor with the Key West power regime.
After other encounters with his Key West associates and the wrecking court, Housman began looking into establishing a more favorable port of entry, an admiralty court and a customs house. This led to his third documented land purchase on Indian Key. In 1831 he purchased a two-story house, a store, a 9-pin bowling alley, billiard room, guesthouse and kitchen from Thomas and Ann Gibson [Jacob's sister] for $5,000.00. With these three properties, Housman proceeded with additional purchases to set up a mini-empire under his control. There is little doubt that Indian Key as under the absolute control of Indian Key, only the details are a little fuzzy.
Another perspective of Indian Key may be obtained from the brief references made by William Hackley, an attorney from Key West. Hackley kept a diary and include the following comment in his February 27, 1832 entry, ". . . remained on board all evening as I dislike Indian Key so much that unless I have business I am determined not to go ashore. . . . "
Hackley's comments are not surprising as Housman was separating himself from the Key West interests at this time. His episode while still in Key West involving taking the French ship Revenge to St. Augustine in 1825 for adjudication instead of to Key West and the legal involvement of the French Consul would have made an impression on a Key West attorney. The acting collector of customs charged Housman with robbery and requested a revenue cutter bring Housman to justice. Housman charged the collector with libel.
In 1829 the legal battles back and forth between Housman and Daniel Mellus over salvage rights of the brig Vigilant did not help his relations with the Key West businessmen.
To preclude a false impression, Housman did win many of his legal cases adjudicated in Key West and the author concludes he was treated fairly by the Key West superior and admiralty courts. To read a selected portion of Hackley's diary Click HERE.
The gifted ornithologist John James Audubon visited Indian Key twice in 1832, first on entering the Keys in late April then departing in late May, while aboard the Revenue Cutter Marion captained by Lt. R. Day. His purpose was gathering data on the fauna and flora associated with birds; however, his visit could be described as interesting. To read his description of part of the visit Click HERE.
Indian Key became a recognized stopping point in the Keys and Housman prospered through the store operation, wrecking endeavors and property sales and re-sales. Housman appears to be a fierce competitor, very focused, undaunted by others and an agenda of his own, but had to use other official ports to process legally acquired 'wrecking' bounty. Petitioning began in 1933 while Indian Key was a part of Monroe County to make Indian Key an official U.S. Port-of-Entry. As we shall learn later, it becomes the County Seat of newly created Dade County. Click HERE to read the memorial. This effort drew out for years.
The effort was revived when a group of Charleston merchants petitioned 25th Congress 3rd Session, December 11, 1938 to designate Indian Key to be an official Port of Entry and build a light house. A group of shippers, underwriters, etc. aided his effort with a memorial to Congress in. Monroe County's William Whitehead of Key West refutes strongly the "requisite facilities" of the island presented and Dade County's Judge, Thomas Jefferson Smith, responded accordingly. The contest went back and forth and to my knowledge is never acted upon, probably because of the Indian massacre the following year. Further research is needed on this subject.
Indian Key's first post office was privately operated by Silas Fletcher opening on May 21, 1833 and it remained open until May 29, 1843. Dr. Henry F. Waterhouse was officially appointed by the U.S. Postal Service as postmaster on April 19, 1834. Dr. Waterhouse had relocated from Key West for reasons unknown. Dr. Waterhouse and his son was out fishing on January 18, 1835 when a severe storm blew up and they both drown. Charles Howe was appointed replacement postmaster. For more information about Dr. Waterhouse please Click HERE.
For a comparison of population and voting the following was Monroe County's tally for Territorial Council October 17, 1835:
Fitzpatrick Hackley
Key West 41 38
Indian Key 4 3
The election of Fitzpatrick was the downfall of Monroe County. Richard Fitzpatrick, an illustrious character like Housman had significant holdings around Fort Dallas (Miami) which were mortgaged to Mrs. Harriet English of Columbia, S.C., his sister who was also the mother of State Senator William F. English of Indian Key.
In November of 1835 S. A. Spencer advertised in five major newspapers of "A Resort for Invalids" for boarding and lodging. Little is known of Spencer, but most believe he either leased or managed the Tropical Hotel owned by W. C. Maloney. to see the ad Click HERE.

- Dade County Sub-period of Housman (1836 - 1840) -

This is really part of the Housman period, but if the political element was considered it would be one of the most important. When the Florida Legislative Council met Jan. 4, 1836 in Tallahassee, there was not a quorum present and the body adjourned until the next day. On Tuesday, Jan. 5, 1836, the council met and Richard Fitzpatrick, member elect from Monroe County, having appeared a quorum was formed.
On a motion of Mr. Blount, Mr. Richard Fitzpatrick was nominated and duly elected as President of the Legislative Council. The appearance of Mr. Fitzpatrick has more than casual interest for us, because among his agenda for the session was a plan for the creation of a new Florida county to be formed from a part of the territory of Monroe County. The new county was established and named Dade, with no votes of opposition. It became official on February 4, 1836. This legally divided Monroe County into about half and half with Monroe County losing almost all of its eastern Florida coastline.
In protest, on February 26, 1836 William Whitehead sent a petition signed by 95 others of both counties to the U.S. representative asking for the repeal of the Territorial law giving a number of reasons, one being ". . . As Indian Key and all its buildings belong to one individual, the holding of two terms of the Superior Court there per annum, may possible benefit one man, but it will double the burdens of every other in both counties.-" Jacob Housman replied with petition signed by 107 individuals on March 1, 1836, also with many reasons not to repeal the law, one being, ". . . what motives they may have in desiring this law revoked we do not pretend to say, but it is to be feared that the due regard for the interest of the settlers in the remote part of the county is lacking. . . ." Monroe County's objection was a failure.
Monroe County lost all of its territory east of Bahia Honda. The City of Key West protested to no avail. Just what role Housman had in establishing a new county of Dade is not recorded very well. What is significant is that Housman had accomplished the first step of becoming independent of Key West control, but he still lacked the official designation as a Port-of-Entry. The Middle and Upper Keys remained part of Dade County until the counties' present boundaries were established in 1866. For an area map Click HERE.
The author believes less is known of these early Dade County Seat activities than of Indian Key in general. In most written history, it is almost as if it did not happen. Let's face it, the Upper and Middle Keys were now in Dade County as enabled by Chapter 937, Acts of the Governor and Legislative Council of the Territory of Florida, Fourteenth Session. More on Dade County after the Indian raid. Few know today that communities of Key Largo, Taverner, Islamorada, Layton and Marathon once were in now Miami-Dade County.
The Florida Legislative Council appointed on February 12, 1837 the following Dade County officials: Judge of the County Court = L.W. Smith, Justices of the Peace = Samuel Smith, John Dubose and Alexander Scott. Auctioneer = Joseph Pent and Notary Public George Somerandyck. We know little of what they did as the records were burned in the massacre.
The tensions of the Second Seminole War which began in December 1835 were felt in the Keys. On January 6, 1836, Indians attacked the William Cooley family in present-day Fort Lauderdale and burned the Cape Florida lighthouse on Key Biscayne. On June 28, 1837, Captain Whalton of the Carysfort lightship, "

Florida

," and one of his crewmen were killed on Key Largo. Frequent sightings of campfires at night were attributed to the presence of Indians. Settlers generally fled to Key West, except for Indian Key. Sales at Housman's store were reduced because of fleeing settlers.

Continued on Page 2