Life and Times of
William John Matheson
- Page 5 -
These pages by Jerry Wilkinson
- The 1926 Hurricane –
Key Biscayne, parts of Coconut Grove and Miami were awash. The hurricane struck at night and about 117 perished in Dade County. Those on Key Biscayne survived, battered but alive. Thousands of coconut palms were down, the Mashta House flooded through its lower level and debris everywhere. The restoration was Hugh's job.
What the 1926 Hurricane did not stop of the Florida Land Boom, the 1929 stock market crash did. As it so happened, Mr. Davis encountered unexpected financial hardships and sailed for Europe. He never arrived and has never been heard from since. The contract was void and the land quit claimed back to William J.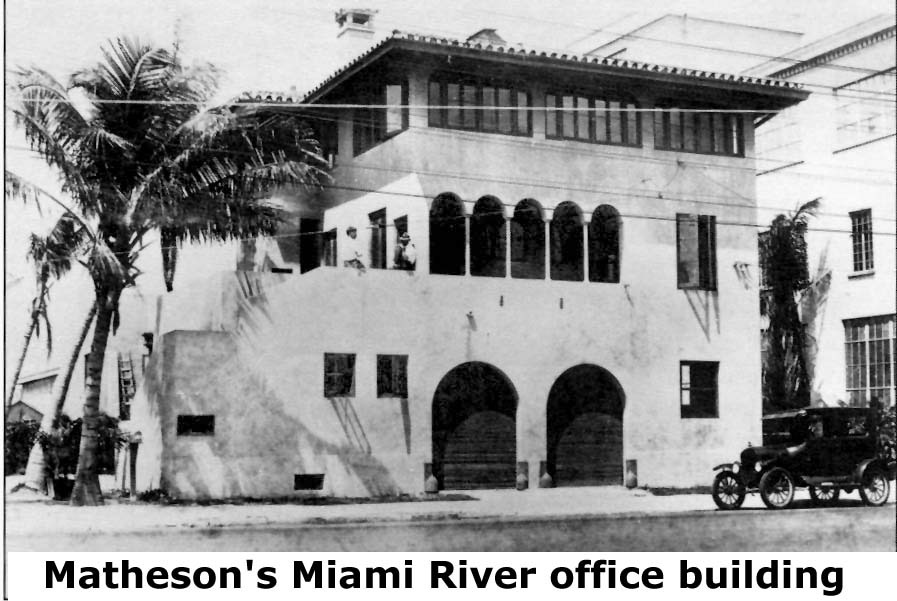 On January 30, 1929, dad transferred the island of Lignum Vitae Key to son, Hugh. In September of 1929 the American Institute of Park Executives met in Miami and toured Matheson Hammock. It was remarked that this place ought to be a park. When approached William J. retorted, "I have been waiting for someone to ask for it – it ought to be public property." He donated the 80 acres for Dade County's first park.
Back at his birthplace, Elkhorn, Wisconsin, the city library had burned. It just so happened that the library had been built on the old Matheson home site. In addition the family's home had burned and was rebuilt evidently before their leaving for British Guyana. William J. donated $80,000 to build a new masonry library building. It was dedicated on July 18, 1931.
But William J. could not attend. Returning from the Bahamas, he had passed away from a heart attack on May 15, 1930 aboard his yacht Seaforth.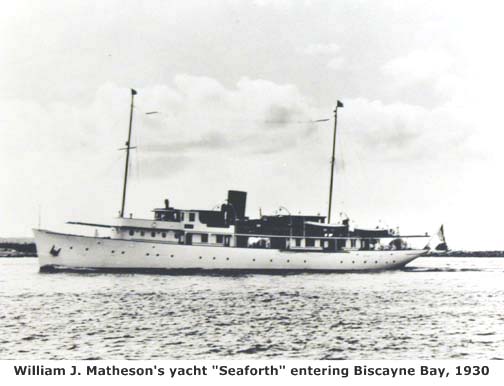 He was survived by his wife, Harriet; daughter Anna Woods; sons, Hugh and Malcolm. The Elkhorn Independent newspaper adds their perspective by adding to the list of survivors, "James Matheson, president of the First National bank, Donald Matheson, who spends a great deal of his time in Elkhorn, and the Misses Mary and Barbara Matheson, all first cousins of Dr. Matheson, are relatives living in Elkhorn. Judge Alexander E. Matheson of Janesville is a second cousin." There was no mention of his wife, Harriet, or second cousin, Lulu May Matheson She is the daughter of W.J.'s uncle, John Matheson.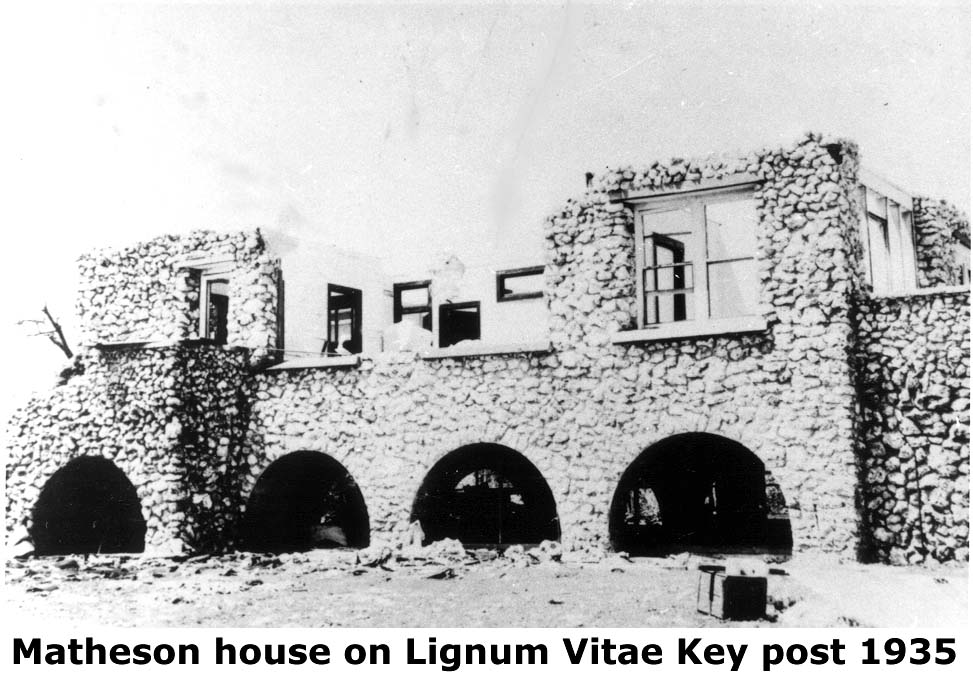 - Epilogue -

An idea of William J.'s will can be obtained from an unidentified clipping titled "Miss Matheson is Named in Will". This time Miss Lulu May is identified as a second cousin to receive $200,000. Reading on "The will specifies the manner of disposal of more than a quarter of a billion dollars. . . . No bequest was made to the widow, provision for Mrs. Matheson having been made before Dr. Matheson died. . . . Dr. Matheson remembered his employees, leaving $100 for each person in his employ at the time of his death, $300 additional for each employe [sic] who had worked for him for two years, and $100 for each year over two years.
"Three children will receive $500,000 each, besides a third of the residuary estate for each. In addition, Mrs. A. M. Wood, Huntington, Long Island, is given $25,000 to distribute among charities.
"A niece, Marie George Cassidy, Flushing, Long Island, is to receive $200,000 and each of her two children is to receive $10,000.
"The largest single bequest to charity is a sum of $400,000 to $500,000 which is set aside for the William J. Matheson Foundation, a charitable and educational corporation. One of the important works which this foundation is to do is to continue the study of sleeping sickness.
"A $15,000 fund is given to Dr. Matheson's school, the University of St. Andrews, Scotland. Numerous other charitable bequests were made."
Daughter, Anna (Nan) Matheson Wood eventually gave most of the Fort Hill, Lloyd Neck, L. I. property to charity. In 1968 she conveyed title of an open track of meadowland to the Nature Conservancy and is now known as Matheson Meadows. In 1982, the 22-room Joseph Lloyd mansion was donated to the Aspen Music Festival. (Mrs. Sam Guyton, daughter of Mrs. Wood, was married to a trustee of the Aspen Music Festival.)
Anna, Hugh and Malcolm jointly donated the north end of Key Biscayne for today's Crandon Park (680 acres). It is also known that part of the transaction was that Dade County Commissioner Charles H. Crandon promised to construct a causeway from the mainland to Virginia Key. World War II delayed action until November of 1947 and it was named after the famous U. S. aviator Edward Rickenbacker who shot down 26 aircraft in World War I. Key Biscayne was now open for vehicle traffic.
Much of the property south of Crandon Park was sold by Anna and Hugh to the Mackle Company for commercial use about 1950. Inexpensive houses were soon for sale. Engineers deemed the concrete in the Mashta House was too weak for remodeling so it was torn down. Later in 1986 a developer considered building a replica of Mashta, but the attraction of selling the land was too great.
Lignum Vitae Key and Matheson Meadows on Long Island remain as pristine as conceivable for the 21st century. Matheson Hammock Park runs it a close second. Crandon Park on Key Biscayne probably ranks third. The southern portions of W.J's Key Biscayne property incorporated as the Village of Key Biscayne, Inc. in 1991. The 6,000 square foot library in Elkhorn stands as a memorial to William J.'s parents, Finlay and Anna Matheson. A picture of William John Matheson hangs on the library wall.

Genealogy of the William John Matheson family

Brothers and sisters are listed vertically as a column. Children are indented to the right below the parent; therefore, older generations are to the left and younger to the right. Each indent to the right is another generation. The vertical order is not necessarily by age. The principal surname is Matheson and any marriage that changes the surname is underlined.
NOTE: These will probably not align vertically because of the nature of various html browsers. Please do the best that you can. The (1) is the first child of the above family; therefore, if there are two (1) aligned it is incorect. The second (1) should be one increment to the right being the next generation younger. Brothers and sisters should align vertically.

(1) John Matheson (1820-1890) m. Lovette Lee
(1) Jesse m. Charles Wescott
(2) Benson
(3) John
(4) Louis S.
(2) Finlay Matheson m. Anna Meighs Lighthall
(1) Hugh m. ?
(2) William John m. (1881) Harriet Torrey
. (1) Anna (Nan) (1881-1980) m. Willis Wood
. . (1) Robert Matheson m. Georgia ?
. . . (1) John
. . . (2) Robert
. . . (3) Caroline
. . . (4) Willis
.
(2) Hugh Merritt (1886-1952) m. Liguori ?
. (1) William J. Jr. m. ?
. (2) Hugh M. Jr. m. ?
. (3) Finlay L. m. ?
. . . (1) John Henry m. Marie Quinn Flanigan
. . . (2) Finlay Brooks
. . (4) R. Hardy m. Marlee McNaughton
. . . (1) Anna Liguori

(3) Malcolm m. Julia Culbertson
. . (1) Malcolm Jr. m. Emmy Henry Tompkins
. (2) Julia Torrey m. Benjamin Guy II
. . (3) Margaret Robertson m. Edward Randolph
. . (4) Lucy Culbertson m. Frank S. Height

- - - - - - - - - - - - - - - - - - - - - - - - - -
William J. Matheson Chronology

1856 - Born Sept 15, Elkhorn, Wis.
1863/4 – Moved near Georgetown, Br. Guyana
1865 – Sept 3 departed for Scotland for school.
1871 - At age 15 informally attends St Andrews Univ.
1873/4 – Worked in a chemical house representing a French company
1875 – Became the American agent for the French company
1881 – Became the American Registered Agent for Leupold Cassela & Co.
1881 – Married Harriet Torres of E. Aurora , N.Y.
? - daughter, Anna born -
1883 – Father (Finlay) died
1886 – Son, Hugh Merritt born
? - Son, Malcolm born
[1890 - Marjorie Stoneman Douglas born]
[1898 – David Fairchild established a garden in Miami]
[1900 – Fla .Audubon founded. Miami pop.= 1,700]
1902/3 – Son, Hugh, at winter campus of Florida Adirondack school
1904 – Began purchasing land on the SE Fla. mainland
1904 – Commodore Ralph Munroe built motor launch Loon
1906 – New York Glucose Co. for corn refining
1908 – Began buying KB property
1909 – More KB land. Planted Key limes unsuccessfully
1910 – Expanded planting facilities on Key Biscayne (KB)
1912 – Commodore of the Biscayne Bay Yacht Club, and Hugh joins
1913 – James Deering founder of IHC purchased Cape Florida land
1914 – 1918 WW-I, U.S. enters in 1917 and seized German patents
1916 – James Deering planned to develop Cape Florida
1919 – James Deering restores Cape Florida lighthouse
1919 – Abandoned Key limes on Key Biscayne (KB)
1920 – Had 36,000 coconuts trees on KB
1920 – Bestowed LLD from Univ. of Scotland
1921 – Imported Malay Drawfs coconuts
1925 – James Deering died as well as the Cape Florida development plans.
1926 – Contract with W.P. Davis, huge Fla. land developer
1926 – Bought 6.84 acres of No. KB at govt. auction for $58K.
1927 – W. P. Davis died, land back
[1928 – Pan Am Airways in Miami]
1928 – Had total of 1,800 acres on KB, ?? on mainland, 270 acres on LV Key, 80 acres Upper Matecumbe Key
1929 – Took Ernest Coe for his first view of the Everglades in his seaplane
1930 – Died May 15 aboard his yacht Seaforth of heart attack
[1933 – Son Hugh donated 1,500 coconuts to Miami poor]
[1938 – Fairchild Tropical Gardens]
[1938 – Hugh the imported the makupuno coconut]
[1940 – Hugh trades KB 800 ac. Crandon Park for a KB causeway]
[1941-45 – WW-II]
1947 – Nov., Rickenbacker Causeway to KB opened
[1947 – Everglades National Park]
1950 – Mackle Co. built low cost housing south of Crandon Park & tore down Mashta house

The End
Return to page one - Click Here