THE NATURAL HISTORY ROOM
Hurricanes Case
The 1935 Labor Day Hurricane Shelf.
Page 10
This page by Jerry Wilkinson
The above photo contains a lot of information. The eastern part of FERA Camp 3 is to the upper left. Note the sand. In the center is the vehicle ferry landing. Leading up to the landing is the highway. Below the landing is the decapitated ferryboat "Monroe County." The entire right of the photo is railbed with the tracks washed off. In the right-center are a group of automobiles.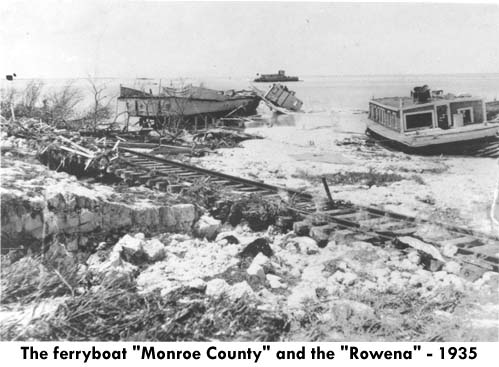 This photo is a close-up of the lower right portion of the previous photo. The boat anchored in the distance top center is the State Road Department houseboat "Sarasota" shown up close below.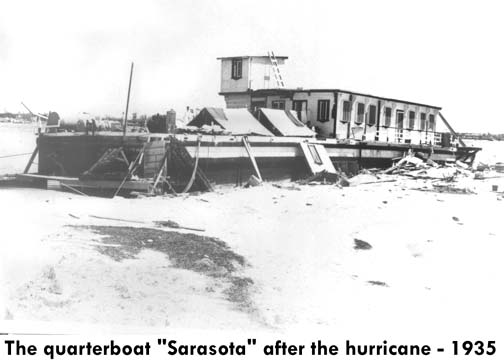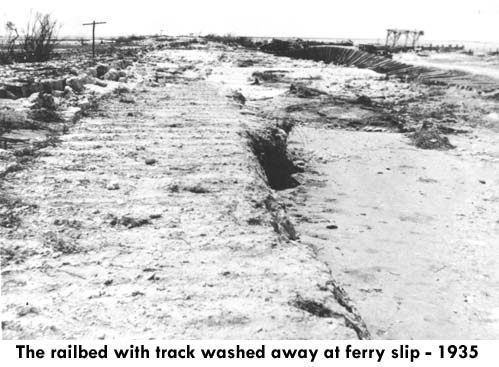 In the above photo the photographer has backed away to shoot down (southwest) the railbed. In this photo can be seen the track standing on its edge. The hoist mechanism for the ferryboat ramp is in the upper right.
The photographer is closer and centered on the ferry landing hoist.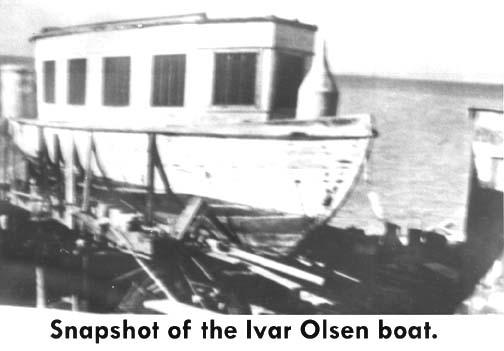 This is a poor photo of the Ivan Olsen boat in which a number of people from the Craig area just below the ferry landing rode out the hurricane. More important, it was Olsen's barometer that establish the still record low barometric pressure of 26.35 inches ever recorded over land in North America. The indicator was off the scale and Captain Olsen scratched marks along the brass rim which were later calibrated.
Now to the other end of the devastation at Snake Creek.
Continued on Page 11