- The Homepage for the
World War One Veterans
Who Worked In the Upper Florida Keys -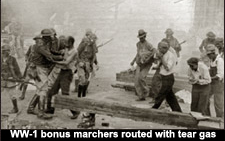 By Jerry Wilkinson
Posted June 30, 2010
NOTE: THIS PAGE UNDER CONSTRUCTION - THANKS
I goal is to pay tribute to the efforts of the World War One veterans and families who worked and died in the Florida Keys. Their presence are usually mentioned only when the death and destruction of the 1935 Hurricane is mentioned and then only as "The World War One Veterans." During the 1935 hurricane about 400 humans lost their lives and of these about 250 were WW-1 veterans - there are various sets of numbers that could be used. From this it is seen that more WW-1 Veterans lost their lives than so-called civilians - yes they were also civilians.
My purpose here and the following pages is to contribute as much as I know about these, let's call them special civilians, who once made the Upper Keys their home. As a note, I also am a 23 year veteran, but in my off and on years since 1947 have never met a World War One Veteran in the Florida Keys. During 1934 and 35 at least 1,000 veterans were sent here to work, all did not stay - In the Upper Keys there were more WW-1 veterans than non-veterans. Speaking of the veterans only, in theory the three camps were designed for a capacity of 250 each for a total of 750 - eight per building. Some civilian employes did occupy some buildings. It is believe that in September 1935 it was near capacity, but for the Labor Day weekend some were away for the extended holiday. The later 1936 Congresional Inquiry could not determing how many were in camp on September 2, 1935.
Over time I have been contacted by several grandchildren for information which I supplied based on a copy of the Congressional Inquiry. Below will be most of the WW-1 Veteran data that I have and I hope it serves someone's use.
Each Memorial Day we have services at the Florida Keys Memorial, aka the Hurricane Monument, but it is only the families of the locals who can be recognized as they are here. This page is to recognize the veterans who died and those who lived, as well as their children, who had children and are someplace today. The "Hurricane Monument" was largely made possible by the Harvey Seeds American Legion Post in Miami who collected and provided sufficient matching funds for the WPA to build it. The WPA provided the remaining funds.
To my knowledge and as a former subscriber of
'The Torch
' newsletter there may be several surviving WW-1 veterans, but one is Frank Buckles, born 1901 and enlisted in 1917. Well, Frank to you and all the offspring of former World War One Veterans, thank you, God bless you and this is in your and all veterans' remembrance.
Below is more or less and index to the web site.